Residents at three care homes in Suffolk have been enjoying Platinum Jubilee celebrations fit for a queen.
Care UK's Mildenhall Lodge, in Mildenhall, and Davers Court and Glastonbury Court, in Bury St Edmunds, have marked the Queen's official 70-year milestone by hosting special garden parties.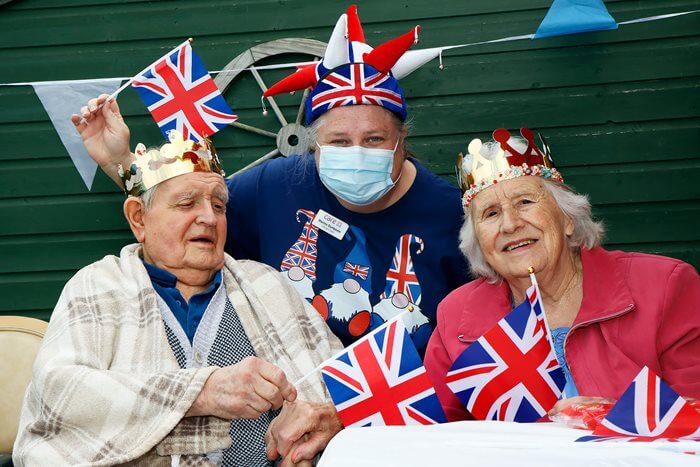 At Mildenhall Lodge, residents enjoyed music from Charlie Chaplin, Glastonbury Court hosted a red, white and blue themed extravaganza, while Davers Court opened a brand-new sensory garden to commemorate the occasion.
Residents at the homes have also spent time reminiscing about their own memories of jubilee celebrations gone by, including 85-year-old Margaret, from Mildenhall Lodge, who remembers the coronation.
She said: "I spent the day in Aldershot, and we had a party in the gardens. We sang the national anthem and the celebrations went on all through the night, it was fantastic."
Deepa Reju, Home Manager at Mildenhall Lodge, added: "We had a fantastic time with the Mildenhall family having a right royal knees-up to celebrate the Platinum Jubilee.
"It's been a busy 70 years for the royals, with big birthdays, anniversaries, weddings and new additions to the family – conversations about the Queen are never too far from our lips here at Mildenhall Lodge. Many residents remember her coronation too, so it was great to be able to share those memories and reminisce.
"We'd like to say a big thank you to the relatives who joined us on the day and raised a glass to the Queen – we hope to welcome everyone again soon!"
To find out more about Care UK's Platinum Jubilee celebrations, please visit: careuk.com/platinumjubilee.
Care UK's Mildenhall Lodge, Davers Court and Glastonbury Court are modern care homes providing full-time residential, nursing and dementia care, as well as short-term respite care. Designed to enable their residents to live enjoyable and fulfilling lives, the care homes have their very own cinema and hair salon, and there is plenty of space both in and outdoors for relaxation and recreation.
To find out more about the homes, visit careuk.com/suffolk.