Care UK homes join international art campaign
Make the Change
Starting this October, thousands of residents in our homes across the country will be taking part in The Big Draw Festival 2021 and exploring the theme 'Make the Change' which looks at the relationship we have with the environment we live in.
This is set to be an exciting month for everyone involved, and we can't wait to see what the home teams have in store - from school partnerships, to virtual masterclasses with professional artists – there is plenty to draw inspiration from.
We're proud to be the health and social care partner for the festival for the third year running, renewing our commitment to show you all our activity-based care approach. Art is a wonderful way for residents to express their feelings and showcase their artistic flare, while stimulating the imagination, boosting self-esteem, and providing a sense of accomplishment.
We also hope that our involvement will inspire other care homes across the country and beyond to join in with The Big Draw Festival and share their creations with us using the hashtags #CareToDraw and #TheBigDraw.
Art therapy has many proven benefits for older people, while being incredibly accessible, no matter the age or skills, so we couldn't agree more with The Big Draw team's vision to promote drawing as a universal tool for learning, expression, and invention.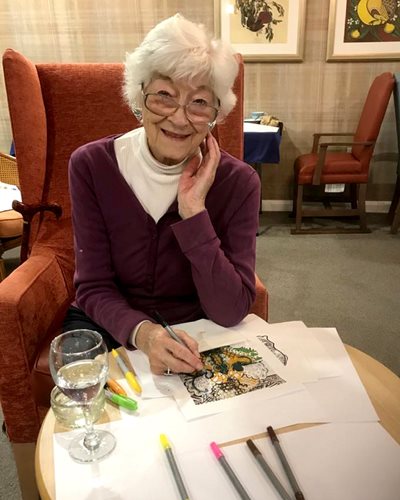 On top of physical benefits, from increased motor skills to improved coordination, creative activities such as drawing can truly boost cognitive function and even reduce the rate of development for a range of memory conditions, including Alzheimer's.
Initiatives, such as The Big Draw Festival, also offer the added benefit of providing a fantastic opportunity for social connection – by bringing together groups of people around one common activity – so we'd like to encourage everyone to pick up a pencil this October, regardless of their age, and get drawing!
Care UK's involvement in The Big Draw festival in previous years has seen life drawing class with a nude model and tuition from an animator who has world with Disney. The campaign drew admiration from the care sector and won top prize at last years Care Home Awards.
To find out more about the Big Draw festival, please go to thebigdraw.org.