Find what's right for you
Deciding to move a loved one into permanent residential care can be one of the biggest and most difficult decisions you'll make in life. But once you've made that decision, you'll want to find the best possible home for them.
There are many types of care homes, from residential, to those providing nursing care and dementia care. Talk to your GP and other healthcare professionals to understand what care your loved one may need. Your local authority social services team can arrange a free care needs assessment.
Find out more about the types of care we can support, or use the find a care home search tool to find a home near you.
Helping you choose
Whether one of our homes is right for you or not, we are here to provide some guidance on the factors you might want to consider in choosing a care home.
Download our choosing a care home checklist
Step one: Match care homes to care needs
There are many different types of care home, ranging from homes which provide specialist nursing or dementia care to others which simply offer a safe and comfortable new home for people who may need a little assistance with daily life. Which one you choose will obviously depend on the level of care required.
Confused about the difference between residential and nursing care? Read our comparison here, or find out more about the types of care we offer.
Step two: Find out how your care will be funded
Depending on your situation, you may be eligible for government assistance in meeting some, or all, of your care costs. Equally, many of our existing care homes welcome residents who do not qualify for government support and wish to fund their own care. Our new care homes provide a premium offering to those who wish to fund their own care which includes luxurious facilities such as coffee shops, cinemas and hair and beauty salons. Like all our homes, they're staffed by passionate, exceptional colleagues.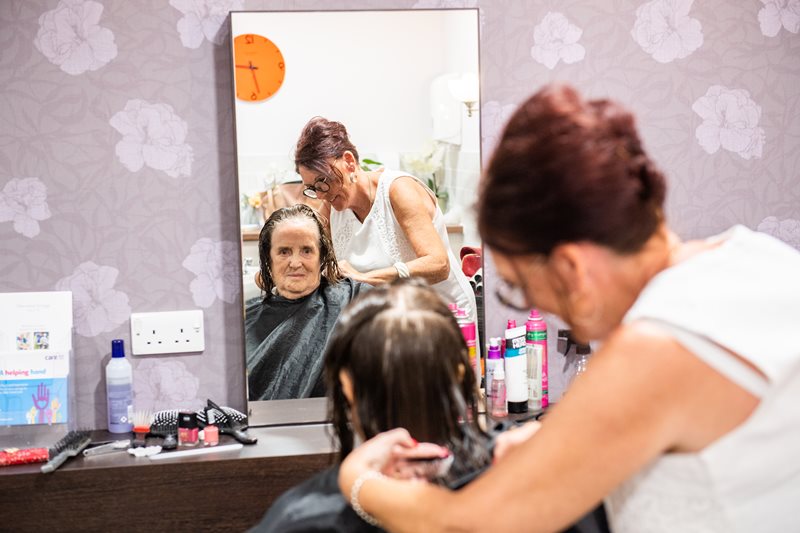 We know that cost is one of the biggest concerns for people looking for care, take a look at our what affects cost page to help you understand your funding options.
Step three: Identify the best location
Many care home residents have strong social and family connections to their local communities and will often stay in the same area to maintain these relationships. For others, moving into a care home enables them to move closer to family or friends so they can more easily visit and provide additional support.
Once you have an understanding of the type of care you need, and the location which best meets your needs, you can start to develop a shortlist of homes. There are various online care home directories which offer a good place to start, or you can use Google to narrow your search.
Use the find a care home search tool on our website to find a home near you.
Step four: Check on quality standards
Take some time to check third party reviews of the care homes you're considering. The independent regulator for care homes in England is called the Care Quality Commission. It undertakes regular inspections of all care homes to ensure they meet government standards and identifies any areas of concern. In Scotland, the independent regulator is the Care Inspectorate and in Wales it is the Care and Social Services Inspectorate Wales (CSSIW).
Step five: Visiting shortlisted homes
Once you have shortlisted some homes, visit each of them to look around, meet the manager, speak to staff and residents and get a feel for life within that home.
Just like family homes, care homes differ a lot in character and atmosphere so it's important to find an environment where you or your loved one will feel comfortable. Visiting the home will enable you to get a feel about everything from the care home team and how they approach care to the general buzz and atmosphere.
If circumstances allow, feel free to visit more than once, perhaps with different members of your family, or with people whose opinion you trust. Choosing a care home is an important life decision and a second (or even third) visit can help reassure you and your loved one that you're making the right choice.
Find out more about how to book a viewing.
Step six: Cost of care
The cost of care can vary greatly depending on the level of support you or your loved one needs so if you are paying for the care yourself it's important to discuss the costs thoroughly with each care home manager to ensure you have a full understanding. It's likely the manager will need to do a pre-admission assessment of your or your loved one's needs before they can finalise costs.
Read more about choosing the right care home in our moving into a care home checklist.