Some of the dreams we've made into reality...
Exciting animal visits
Pauline Wooliams, an 85-year-old resident at Millers Grange, told her care team her greatest wish was to see a crocodile up close, so they immediately set to work to make her wish come true.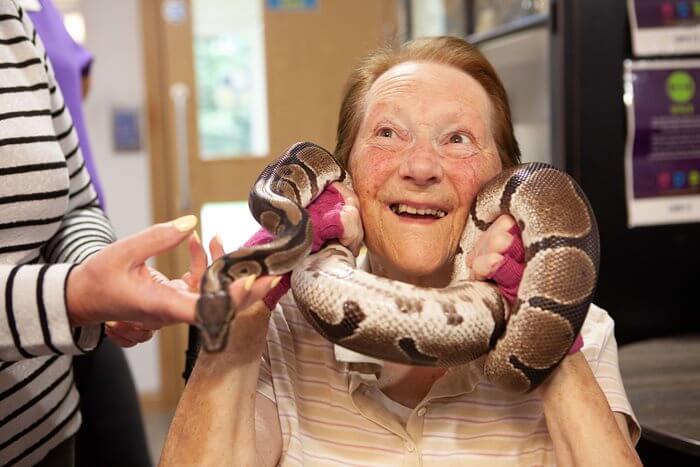 Pauline was amazed when a bearded dragon, reticulated python and three-year-old salt water crocodile all crawled into the home. She was delighted to be able to get up close with the reptiles, stroking and even feeding them. A lifelong reptile lover, crocodiles are a firm favourite for Pauline and having them come to visit was very special.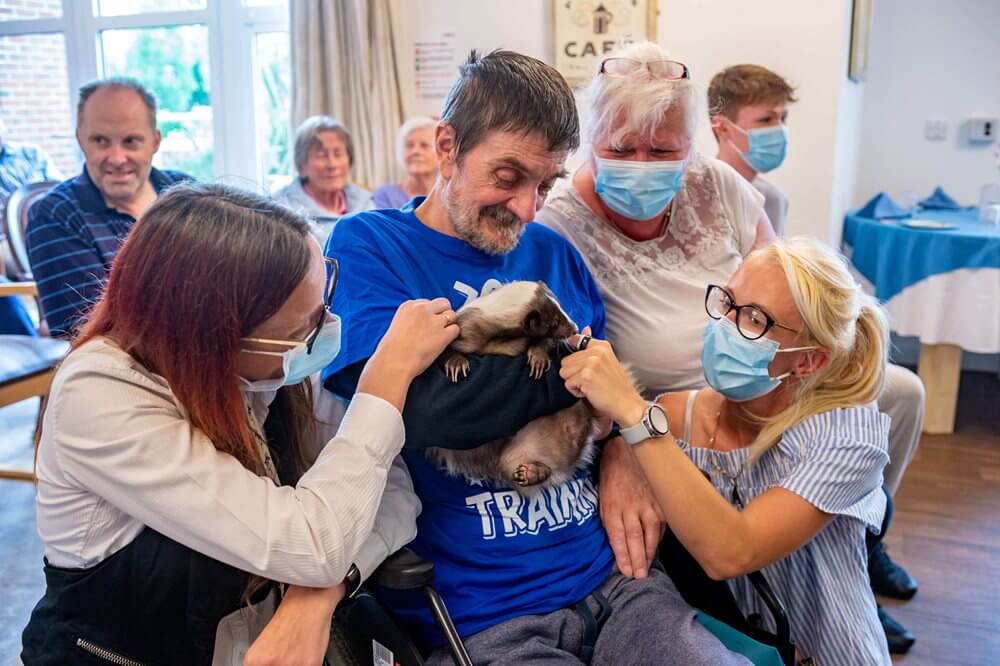 Anthony (Tony) Bartlett, aged 67 and a resident at Care UK's Ambleside, told his care team his wish was to see some wonderful animals up close.
When Tony was growing up, his home was filled with animals for as long as he could remember, which is where his love for animals was born. Tony is an expert when it comes to animals great and small and believes that 'you look after them and they will look after you'.
Team members at Dashwood Manor wasted no time in organising 89-year-old resident Dennis' lifelong wish to skydive. "My wish was to jump out of a plane and freefall for as long as possible," he said.
Dennis took to the skies on 25th April and jumped out of a plane at 15,000 feet. After the jump he said: "It was splendid. The feeling of free falling was just amazing, and I was just trying to take it all in. It was better than I ever expected. Age is only a number. You can do anything if you are determined."
Age is only a number. You can do anything if you are determined.
Not only did Dennis take the leap on his skydive, but he also used the opportunity to fundraise for Marie Curie. Read more about Dennis' skydive experience, or watch the video below.
A question of sport
Many residents' wishes relate to their favourite sports.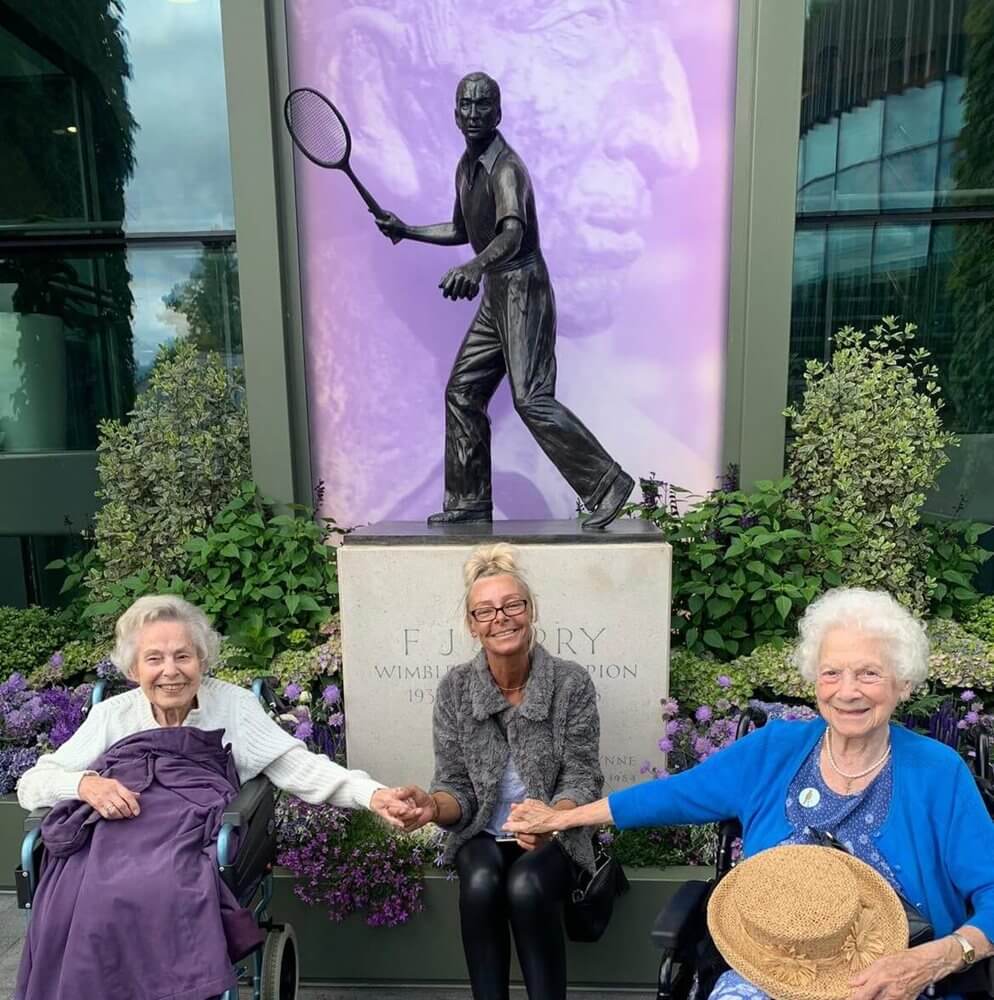 The team at Appleby House surprised two of its biggest tennis fans, Bridget Parry and Pat Redvers-Smith, with the full VIP treatment at Wimbledon – tickets to Centre Court to see tennis champion Rafael Nadal.
I have always loved tennis and get great enjoyment from Wimbledon in particular. To be there again after so many years was very special.
Bridget, a resident at Appleby House
At Deewater Grange, colleagues arranged a surprise trip to Everton's Goodison Park for residents Corinne Clarke, 87, and Howard Dodds, 75. They had talked in detail about their decades-long devotion as Everton fans and often reminisced on memories spent watching the team in action.
The club treated Corinne and Howard by offering them a private tour around the changing rooms, boardrooms, grounds, trophy room and the pitch to see where all the action happens.
But they're not the only ones whose football dreams have come true. Foxland Grange arranged a surprise trip to a football stadium for resident Fred Green after hearing about his 55 years as a Wolves fan and memories spent watching the football team in action as a child.
"The experience of going back to Wolverhampton Wanderers was absolutely incredible. I am so grateful for the chance to have returned to Molineux Stadium for a special tour thanks to the team at Foxland Grange. Reminiscing about my football days certainly brought back many lovely memories," Fred said.
Meanwhile, 86-year-old Daniel (Danny) Warner, a resident at Care UK's Priors House, travelled to Ipswich Town Football Club, returning to the stadium he visited every Saturday with his dad growing up.
The nostalgic trip to the stadium also saw Danny meet club legend John Wark and current player Sam Morsy. Watch the video below to see his wish come true...
Classic cars and motorcycles
Two homes arranged special motorcycle dreams-come-true so residents could relive their biker days. At Hartismere Place, the team organised a surprise visit from a local biker group for 85-year-old Tony who was an avid motorcyclist in his youth.
Seeing all those bikes was incredible – I couldn't believe everyone was there for me!
Tony, a resident at Hartismere Place
Mountbatten Grange arranged for enthusiasts Jim, 88, and Jack, 91, to see eight motorbikes up close with the help of a local biker group.
Jim said: "It was excellent, everything about it! I loved seeing all the different bikes and meeting the bikers too – they were a very nice and friendly bunch of chaps! I loved trying on the jacket. It has been quite some time since I've seen a motorbike up close like that."
Meanwhile, retired racing driver John, who is a resident at Weald Heights, was surprised with a spin around his local town in the latest Aston Martin.
After learning about his time spent as a racing driver in the 1950s, the team at Weald Heights put their ideas into gear and planned a surprise outing to Aston Martin Sevenoaks.
Commenting on the day, John said: "I thoroughly enjoyed this afternoon. It was a wonderful surprise and brought back so many happy memories from my racing days."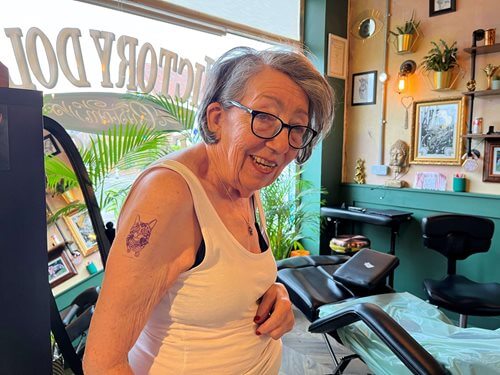 Helen's wish for a tattoo of her cat came as a surprise and to the team at Dashwood Manor, but they couldn't wait to start organising it for her.
The tattoo of a tabby cat was placed on Helen's right arm and designed and tattooed by Basingstoke tattooist Sarah from Victory Doll.
I absolutely love the tattoo and I would like to thank the tattooist for being so patient and the team for organising it for me.
Helen, a resident at Dashwood Manor
Musical memories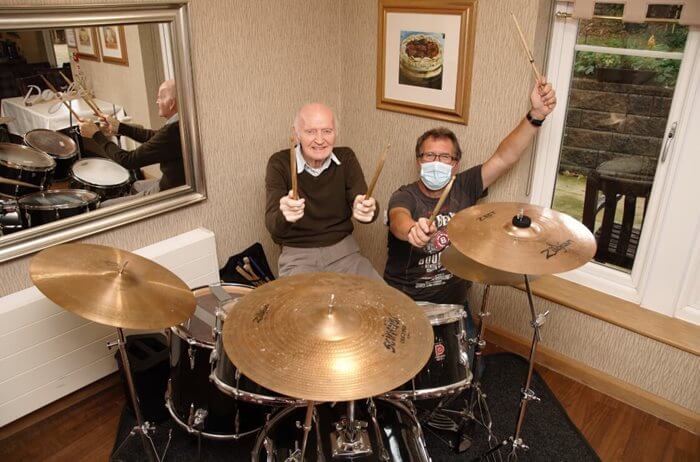 A resident at Care UK's Colne View was thrilled when his wish to play the drums again was made a reality. 82-year-old Alan was a former drummer and was keen to relive his rock and roll days.
When the team at Ancasta Grove learnt that Cathy had always wished to play the guitar, they helped her to learn at the age of 87.
They found a smaller guitar which was in desperate need of repair, but luckily help was on hand as the home has its very own repair shop.
Once it was fixed and beautifully decorated with a little help from other residents, Cathy was ready to learn.