Some of the dreams we've made into reality...
Pauline Wooliams, an 85-year-old resident at Millers Grange, told her care team her greatest wish was to see a crocodile up close, so they immediately set to work to make her wish come true.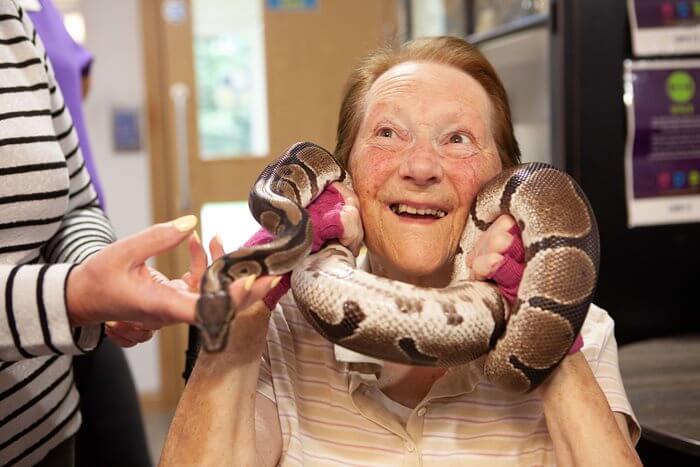 Pauline was amazed when a bearded dragon, reticulated python and three-year-old salt water crocodile all crawled into the home. She was delighted to be able to get up close with the reptiles, stroking and even feeding them. A lifelong reptile lover, crocodiles are a firm favourite for Pauline and having them come to visit was very special.
Team members at Dashwood Manor wasted no time in organising 89-year-old resident Dennis' lifelong wish to skydive. "My wish was to jump out of a plane and freefall for as long as possible," he said.
Dennis took to the skies on 25th April and jumped out of a plane at 15,000 feet. After the jump he said: "It was splendid. The feeling of free falling was just amazing, and I was just trying to take it all in. It was better than I ever expected. Age is only a number. You can do anything if you are determined."
Age is only a number. You can do anything if you are determined.
Not only did Dennis take the leap on his skydive, but he also used the opportunity to fundraise for Marie Curie. To donate to Dennis's Just Giving page, please visit: www.justgiving.com/DashwoodManor.
Read more about Dennis' skydive experience here, or watch the video below.
Classic car wishes
Priors House in Leamington Spa made three residents' wishes to get up close with some classic cars come true.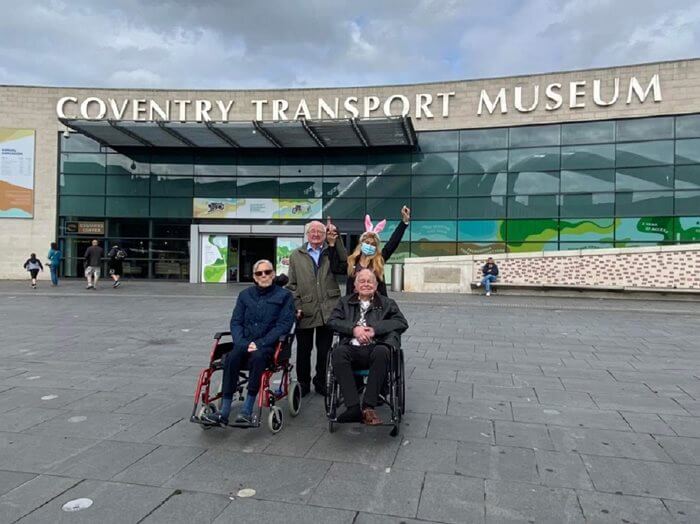 Lifelong car lovers Michael Walton, 90, Richard Kimpton, 85, and Stephen Izon, 88, all owned Jaguars and other classic cars throughout their lives. Attending lots of car shows and races over the years, they wished to visit a car museum to see some impressive vehicles once again. Read about the visit here.
Meanwhile, the team at Chandler Court in Bromsgrove made resident Bill's wish to attend a car show come true.
Bill Ewen, aged 83, competed in a number of car shows across the UK for over 30 years with his MG Midget – and wished to attend a car show once again. The team at Chandler Court decided to get in touch with the North Worcestershire MG Car Club and got busy organising a special visit to make Bill's wish come true. Read more here.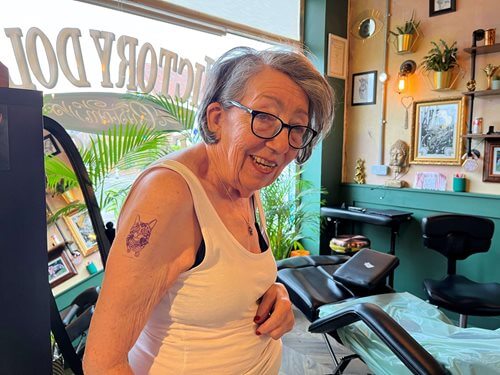 Helen's wish for a tattoo of her cat came as a surprise and to the team at Dashwood Manor, but they couldn't wait to start organising it for her.
The tattoo of a tabby cat was placed on Helen's right arm and designed and tattooed by Basingstoke tattooist Sarah from Victory Doll. "I absolutely love the tattoo and I would like to thank the tattooist for being so patient and the team for organising it for me," Helen said.
When the team at Ancasta Grove learnt that Cathy had always wished to play the guitar, they helped her to learn at the age of 87.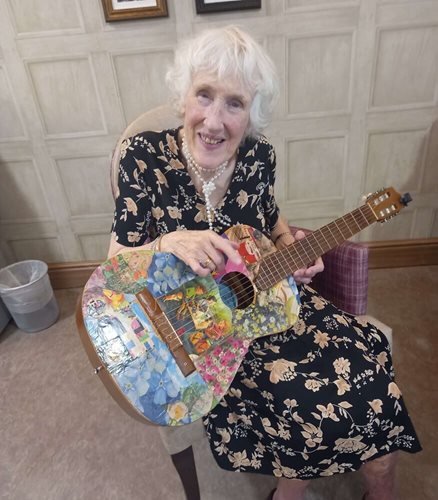 They found a smaller guitar which was in desperate need of repair, but luckily help was on hand as the home has its very own repair shop.
Once it was fixed and beautifully decorated with a little help from other residents, Cathy was ready to learn.
Resident Pearl was delighted when the team at Cavell Court brought a special guest in to meet her..
The 71-year-old has loved owls since she was a child. The last time Pearl had been able to see an owl up close was when her son decided to have an owl as the ringbearer at his wedding in 2014, where she was overjoyed to be able to hold the friendly creature.
Annie's penguin wish
We've already been working hard to make wishes come true for residents at Care UK homes across the country. Annie Thelwell, from Mountbatten Grange in Windsor, has had a lifelong passion for penguins. With penguin ornaments, jewellery and pictures, it was obvious to the care home team that she has a real passion for penguins but she'd never met a real one. So the team at the Windsor home made it their mission to make her dream come true, and so penguins, Pringle and Charlie, waddled into the home to surprise Annie and her fellow residents, much to her delight.
Violet's Spitfire reunion
At Highmarket House in Banbury, the team knew that resident Violet Mitchel had worked building components for Spitfire aeroplanes during the Second World War. One day, Violet revealed that she had never seen a completed Spitfire – something she always regretted.
The team quickly got to work and contacted RAF Museum in Hendon. Along the way, two rather famous television personalities decided to lend a hand to make sure the wish was memorable. The result was Violet catching her first glimpse of the iconic plane arm in arm with Ruth Langsford and Eamonn Holmes.
Olwyn's flying high
Another very happy lady who had her wish granted was Olwyn Hopkins, a resident at Davers Court in Bury St Edmunds. After she developed a phobia of flying when she took a flight at 19 years old, Olwyn vowed to never step foot on a plane again. However, for her 99th birthday her wish was to combat her fear and fly again, so we made it happen. Not content with just doing it once, for her hundredth birthday in 2019, she took to the skies again! Olwyn said it was the best experience she ever had.
Use the find a care home search tool to find a care home near you.