At Care UK we take pride in creating comfortable, safe surroundings where there's a warm family atmosphere
A safe and happy home
We've found that residents flourish in close-knit surroundings, where they can get to know each other, and the people caring for them, well.
That's why our homes are divided into suites for residents with similar needs. Each suite has access to a lounge and dining area and is a mini-community within the home, offering a calm and reassuring space.
A home that's tailored to you
Every Care UK home is unique but all offer wonderful facilities – many have their own hair and beauty salon, café, cinema room and pub. Cafés have complimentary cakes, drinks and treats and are the perfect place to relax with visitors. Our cinemas have comfy armchairs and big screens – ideal for an afternoon catching a classic film. Most homes have lovely outdoor spaces, where residents can relax with a cup of tea, enjoy activities, take a stroll, or even help with gardening. We have handy accessible planters for the purpose!
Every home is tailored to the needs and wishes of its residents, so some have created their own pubs, shops and themed areas – residents help to create and run these facilities. And, of course, no home would be complete without a pet. Many homes have their own dog, cat, guinea pigs, budgies or chickens which residents love caring for.
An amazing place with staff who treat the residents with care and dignity. We were blown away by the standards of food and the quality of the rooms - I feel so much better leaving my grandad in a place where he is cared so wonderfully for.
Granddaughter of a resident, Perry Manor
We're designing new, state-of-the-art care homes around the country where residents can live meaningful lives in beautiful surroundings. Learn more about the facilities in our luxury care homes.
Promoting comfort and independence
We use the latest technologies to enable your loved one to live comfortably and independently. Your loved one's room has an electronically adjustable bed as well as a 24-hour nurse call system. We'll also fit other safety systems, including pressure mats, according to your loved one's needs.
Residents are free to use technology in the care home as they'd like. Our new-build homes have a smart TV in every bedroom that is connected to WiFi and equipped with services like Netflix and Amazon Prime, if you have a personal subscription. If your loved one wishes, Sky TV and devices like Now TV and Amazon Fire Stick, operating on your own subscription, can be installed.
All our homes offer free WiFi, including a dedicated high-capacity network that residents can use for video and audio calls, as well as streaming on tablets, TVs and smartphones, plus a separate network for visitors. A traditional landline telephone or broadband connection can also be arranged – just speak to one of our friendly team members.
Our care homes also have their own tablet computers for residents' use. These are loaded with an innovative app called Relish, designed by our dementia experts and specialist developers, which offers hundreds of activities that can be entirely tailored to your loved one's interests and abilities.
Dementia-friendly design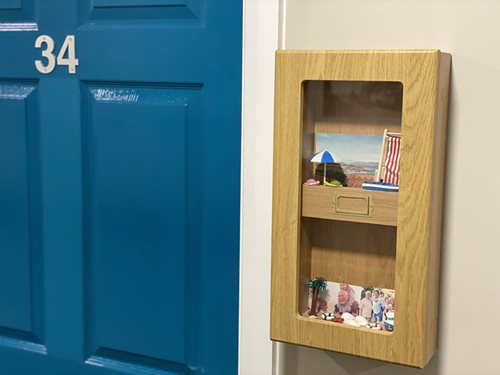 We work with international architects and designers at the forefront of dementia-friendly design to create calming environments where people living with dementia can flourish. Everything from the signage in our homes, to the floor coverings, colour schemes, lighting and soft furnishings are designed to support residents with dementia.
For example, fitted to the wall outside each bedroom is a small lockable glass cabinet called a memory box, which your loved one can fill with treasured items. These help to spark conversations with visitors, carers and other residents and are a discreet way of showing a resident that they've reached their room. Inside each bedroom, our dementia-friendly furniture uses clear panels and easy openings to enable residents to independently choose what they want to wear and find what they need.
Here are seven ways you can help make a room feel more like home.
Always safe and clean
Your loved one's safety is always our priority. We employ experienced, well trained maintenance and housekeeping teams who constantly ensure all our facilities and systems are running smoothly. If your loved one needs something fixing, or a new picture hanging on their wall, they can help here too.
And when it comes to infection control, we employ rigorous cleaning and disinfecting protocols. Even our fabrics and carpets have antimicrobial properties. Learn more about safety and cleanliness in our homes.
Use the find a care home search tool to find a care home near you.