Residents at a care home in Newmarket have been enjoying a Platinum Jubilee celebration fit for a queen.
Care UK's Kentford Manor, on Jeddah Way, has celebrated the Queen's official 70-year milestone by hosting a royal themed garden party with family and friends – while attempting to break a world-record.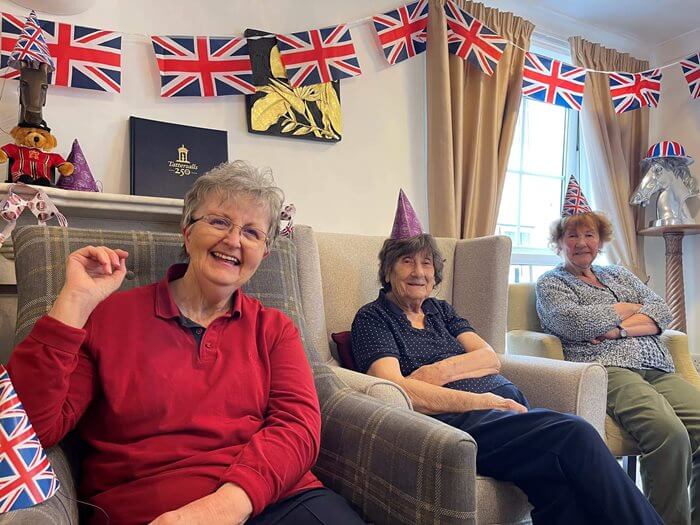 Keen to celebrate in quintessentially British style, team members decorated the garden with Union Jack flags, bunting and balloons – and everyone enjoyed sandwiches, cakes and scones thoughtfully prepared by the home's talented head chef.
Residents and team members also marked the day by attempting to break the world record for the longest pom-pom garland, which stretched 29,312 pom-pom's long. For this world record attempt the care home have been working with the local community.
Residents have also spent time reminiscing about their own memories of jubilee celebrations gone by, including 99-year-old Hilda, who was a seamstress for the royal family.
She said, "I was a trained Court Dress Maker and I made clothes for Royalty. I still enjoy dress making today".
Lijo Varghese, General Manager at Kentford Manor, added: "We had a fantastic time welcoming the Kentford community for a right royal knees-up to celebrate the Platinum Jubilee.
"It's been a busy 70 years for the royals, with big birthdays, anniversaries, weddings and new additions to the family – conversations about the Queen are never too far from our lips here at Kentford Manor. Many residents remember her coronation too, so it was great to be able to share those memories and reminisce with the local community.
"We'd like to say a big thank you to those who joined us on the day and raised a glass to the Queen – we hope to welcome everyone again soon!"
To find out more about Care UK's Platinum Jubilee celebrations, please visit: careuk.com/platinumjubilee.
Designed to enable residents to live active and fulfilled lives, while also promoting independence, Kentford Manor, incorporates space for hobby and leisure activities. The building has been configured to help facilitate the creation of close-knit communities and encourage social interaction among the residents.
To find out more about Kentford Manor, please call Christine Ellesley, Home Admissions Advisor on 01638 779594, email Christine.Ellesley@careuk.com or visit careuk.com/care-homes/kentford-manor.