The proposal
Care UK's proposals for the redevelopment of the Francis Court care home would deliver the following:
A fit-for-purpose 78-bedroom home, which is better able to meet the needs of residents and on-site colleagues. The Government has said that "the need to provide housing for older people is critical". These proposals will support fulfilling this need and the need for specialist care accommodation.
A Travel Plan to influence colleagues and visitors to use sustainable modes of transport to reduce traffic, minimise parking demand, and promote active lifestyles.
As per the existing provision of parking, the care home can be accessed by colleagues and visitors with 29 car parking spaces proposed, including two disabled bays and ample space for cycle parking. There will be an additional ambulance bay and a further enlarged bay for deliveries. The parking area will be immediately to the east side of the building, which will be screened by incorporating new and existing landscaping.
Continue to reduce pressure on the local community and health facilities.
A new building without the need to use greenfield land, as the proposals will revitalise previously developed land in a sustainable location.
Temporary and permanent local employment – should planning permission be granted, local jobs would be created during the construction phase, and once the new home is built and operational, there would be continued employment on the site.
Improved local economic prosperity – the families of residents, and Francis Court colleagues will contribute to Copthorne's economy, bringing additional expenditure to local shops and amenities.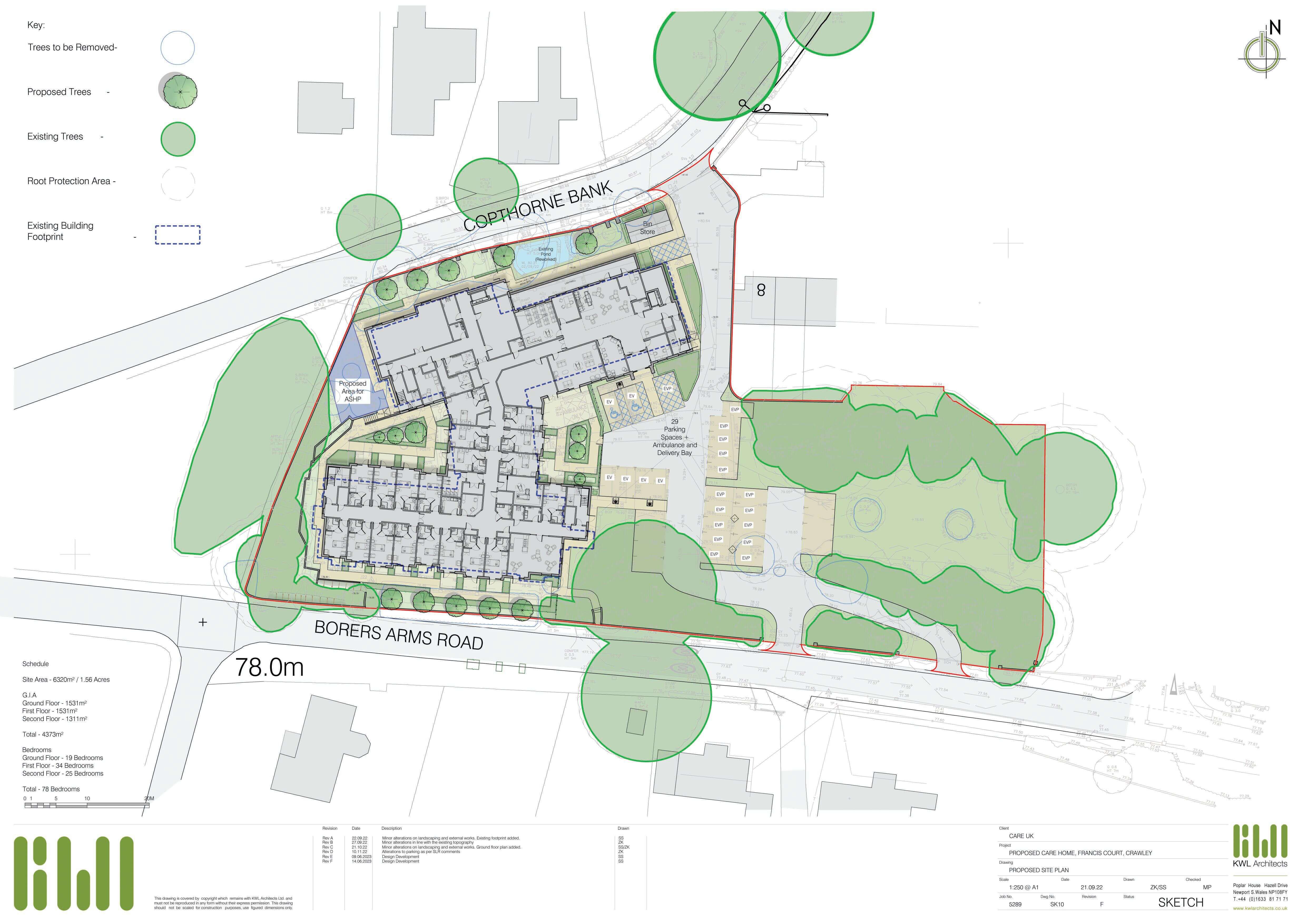 The site plan above shows the proposed layout of the redeveloped home, which is similar in size to the existing Francis Court care home.
Residents, relatives and colleagues
Residents and colleagues have been made aware that Francis Court will be closing and are receiving support from Care UK through the resulting transition period. There is not yet a confirmed closure date, and this will be dependent on finding suitable alternative accommodation and the careful management of transfers for all residents, a process which Care UK is experienced in handling.
A 30-day consultation period with colleagues at Francis Court is currently underway, during which Care UK is exploring ways to try to avoid redundancies by transferring colleagues to its other care homes with vacancies.
Have your say
Care UK is committed to considering the views of the local community before submitting a planning application to Mid-Sussex District Council. Click below to find out how to give your feedback.