5 top tips for birdwatching with someone living with dementia
Have a photo book of birds to hand
Bird guides which list key features, as well as provide images, will help twitchers of all ages and abilities easily identify which birds you have seen.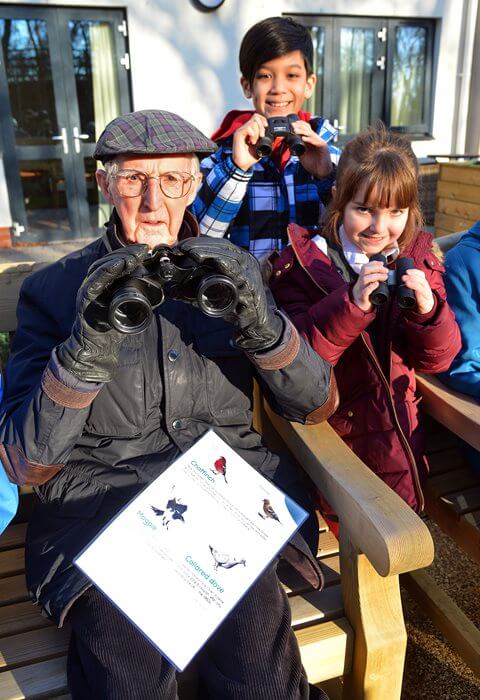 A visual guide could be especially helpful for someone living with dementia as colourful imagery will provide visual stimulation and may help recall memories.
Patience is key
It's important to be patient when birdwatching as you can't always guarantee that the birds will show up in your garden straight away. Instead, if your loved one is still interested in being outdoors, use this as time to relax and embrace all the sights and sounds of your garden, or perhaps try a different activity such as planting bulbs.
If venturing out to birdwatch, take some time to set the scene before you go out, and show your loved one a picture of a local park or nature reserve to help encourage them to want to visit.
Find a safe, quiet space
Birdwatching is a fun activity that can be enjoyed from the comfort of your own home, or by heading out and about. Visiting a local park can be beneficial for someone living with dementia, as if they grew up in the area, certain landmarks may help recall memories.
If you're thinking of taking a loved one out to a nearby park or nature reserve, make sure to plan in advance and keep your loved one's safety in mind. A good tip is to check that your loved one is carrying an identity card, explaining that they have dementia. It's unlikely that the card will be used, but for many carers this can give peace of mind.
Don't feel that you have to plan a trip by yourself. If you would feel comfortable having some extra assistance, birdwatching is an activity that can be enjoyed by everyone, so why not invite a friend or neighbour to join you.
Listen to the birds, as well as look for them
Make sure to listen for birds calling. Sound can be just as powerful as sight when it comes to recalling memories, and listening out for birdsong can even help reduce anxiety and relieve stress. If getting out and about isn't possible, why not try playing a CD of birdsongs instead.
Timing isn't everything
Although the RSPB Birdwatch takes place for one hour over a weekend in January, you can birdwatch anytime.
It's important to speak to your loved one to find out if they are happy taking part in the activity first, or if there's something else they'd rather do instead. Make sure to be flexible and go with the moment, although they may not want to go straight away, you might find that they are excited to go a few day later.
If you're planning a birdwatch, why not invite your family and friends to join you – as they say, two pairs of eyes are better than one!
Frequently asked questions