Care UK has been announced as a finalist in the prestigious Laing Buisson Awards in the Residential Care Provider of the Year category.
The Laing Buisson Awards honours the organisations that have set new quality standards in social care, clinical services and in associated advisory, property and financial roles.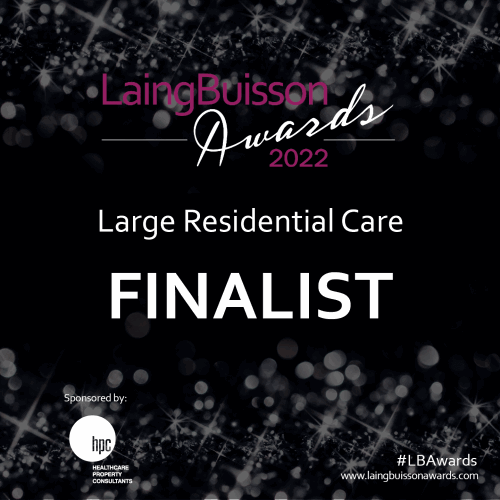 Care UK's quality ratings are the highest of the big five care home providers, despite it being one of the few to sustain a widespread nursing offer. Care UK is outperforming the market average by 12% on residential only homes and 13% on nursing homes and currently operates more 'Outstanding'-rated homes than any other provider (21 homes).
The relentless focus of Care UK on quality has contributed to a strong reputation as a values-based provider that puts residents at its heart. This enables Care UK to attract and retain an incredible calibre of talent at all levels within the organisation.
In the last decade, Care UK has driven the biggest new build programme in the sector, opening 55 homes. It remains committed to bringing much-needed capacity to the care home sector and has plans in place to invest up to £80m each year in the acquisition of land and the construction of new care homes. Care UK also successfully added 26 additional homes to its portfolio in the last year, which were formerly run under the Sunrise and Gracewell brands.
Care UK is progressive in its use of technology and has continued to use communication technologies that were implemented during the pandemic to give residents and their families a wide range of options for keeping in touch. All Care UK homes use social media to create a sense of community around them, bringing colleagues, residents, and their families together to celebrate the achievements and experiences of those living and working there.
Care UK has partnered with not-for-profit organisations to further support colleagues. For example, Care UK has a long-standing partnership with the Care Workers Charity, supporting their important work in helping care sector employees. Its hospitality teams continuously evolve kitchen standards and remain a driving force behind the global #FairKitchens movement, aimed at improving the wellbeing of catering teams.
Care UK will find out whether it has won an award on 17th November in London.