A care home in Sale is celebrating after being named a finalist in the Care Home Awards 2023.
Care UK's Oakfield Croft, on Oakfield, has been shortlisted for the 'Best Facilities Management, Maintenance or Housekeeping Team' category, which celebrates care home team members who go above and beyond their usual duties.
The Care Home Awards recognise and reward excellence and innovation in UK care home management, operation, and delivery.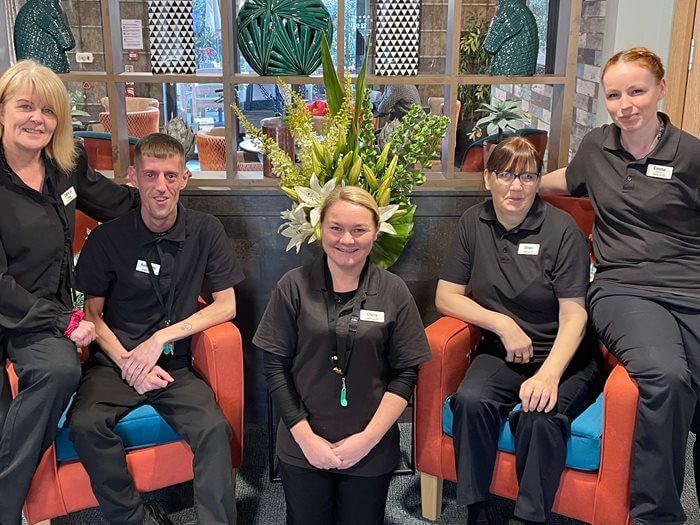 The housekeeping team at Oakfield Croft are at the heart of the nomination for their person-centred approach and adaptability following the pandemic.
The team go above and beyond their housekeeping duties to help support the wider team to care for residents. In addition to making Oakfield Croft a lovely place to live and ensuring the home remains spotless at all times, housekeeping team members have supported the lifestyle team with activities – whether it be training as a minibus driver to help residents go on more day trips or serving a cup of tea and having a chat.
The team's hands-on approach is driven by Head Housekeeper, Elaine Clarke, who has undertaken additional training in care practice, health and safety and governance to become an active member of the home's senior leadership team and guide her team. Working closely with the management team and clinical colleagues to ensure the work delivered by her and her team is fully supportive of the aims and objectives of the home, Elaine sets a high standard for her team and inspires them to follow suit.
Commenting on her team's ethos and positive attitude, Elaine said: "It's such a joy to have a team that works well together and brings joy and laughter to the workplace. Nothing is too much trouble; they always work on their own initiative and always have a smile and kind words for residents. If everyone is moving forward together then success takes care of itself."
The housekeeping team are never too busy to help and are the first to get involved in the home's special events. This includes helping everyone get in the festive spirit by dressing up in Christmas outfits throughout December, decorating the home with residents, and handing out mince pies.
Daniel Cole, Home Manager at Oakfield Croft, said: "We are thrilled to have been shortlisted for 'Best Facilities Management, Maintenance or Housekeeping Team' at this year's Care Home Awards.
"Elaine and the wider housekeeping team work incredibly hard and are always looking for ways to improve the home, which in turn helps enrich the lives of the residents – whether that's driving the minibus to take them on special trips or simply popping into their room for a chat and a cup of tea.
"I'd like to take this opportunity to say a big thank you to the whole housekeeping team at Oakfield Croft. The home truly wouldn't be the same without them, so we're thrilled to see their hard work being recognised nationally – we're keeping our fingers crossed for a win!"
Oakfield Croft has been rated 'Good' in all five areas by the Care Quality Commission and was named a Top 20 care home for the second year in a row. The home is designed to enable residents to live active and fulfilling lives, while also promoting independence. The care home incorporates space for hobby and leisure activities. The layout of the building is configured into a series of individual suites, each having a dedicated lounge/dining room to help facilitate the creation of close-knit communities, as well as facilities like a cinema, coffee shop and hair salon.
To find out more about Oakfield Croft, contact Customer Relations Manager, Andrea Dunlop, on andrea.dunlop@careuk.com, call 0161 820 4019 or visit careuk.com/oakfield-croft