Bake it better
Residents share their baking secrets
Here at Care UK, we love nothing more than taking some time out of our day to enjoy a cup of tea and a slice of cake with residents. But we don't just love to have our cake and eat it - we like to bake it too!
Our Food for Thought initiative focuses on the benefits of using food as a tool for reminiscence. Having meaningful conversations, particularly those based on happy memories, can help to boost positive emotions, improve confidence, and offer a way to connect with an older people.
Baking can be an incredibly beneficial activity for older people for a number of reasons:
Relax and unwind - baking can be a calming activity, which can encourage relaxation and reduce stress
Getting creative - Whether it's a new recipe, or decorating a finished cake, baking is a creative activity, which can promote alternative ways for older people to express themselves
Stimulates appetite - Encouraging older people to take an active role in baking or cooking can help to build a healthy appetite through the stimulation of the senses
Encourages reminiscence - Food can evoke memories and the associated emotions, making baking and its sensory elements the perfect basis for reminiscence.
We asked residents to share their favourite baking memories…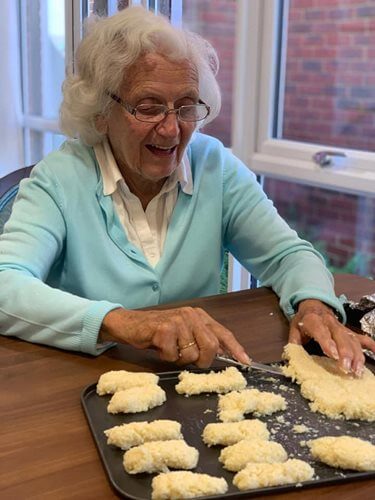 Barbara, 92, from Harrier Lodge
Barbara loves baking, and remembers making cakes for family and friends. She even made a number of wedding cakes in her younger years!
Barbara's tips for the perfect bake:
"Don't over-whisk your egg"
"If it involves pastry, don't roll it out too much"
"Always use cold water when making home-made jam".
Marion, 83, from Sherwood Grange
Marion's Best Bake:
"I once made my own wheatsheaf for harvest, following a recipe from Women's Weekly. I edged and piped it, adding a little mouse peeping through the wheat. That, along with my daughter's three-tiered wedding cake, is my best bake."
When baking goes wrong:
"I always liked to make Christmas pudding – one year, I made it as usual, only I dropped it before serving! We had to revert to a frozen one I'd made previously, but we couldn't defrost it quickly enough.
"On Boxing Day, I visited my friends and took the frozen pudding with me. They'd just had a new microwave, and nobody knew how it worked. We put it in for an hour and a half, and the pudding came out rock hard. I will never forget that Christmas!"
Life is what you bake it
Staying independent and getting the most out of every day is vital for our quality of life as we get older. Activity-based care is at the heart of life at Care UK, whether that's baking, gardening or drawing.
Why not download our free guide, Easy as ABC, for advice on ways to help an older loved one stay active and engaged.