When you do what you love, amazing things happen
At Care UK, the teams in all our care homes are dedicated to supporting residents to continue doing hobbies they love. We also work hard with residents and their families to rediscover those interests they used to enjoy but perhaps got out of the habit of doing.
Why? Well, in short, doing something you've always loved to do brings back happy memories and boosts a sense of wellbeing and self-esteem.
Beyond those emotional advantages, there are impressive physical, mental and social benefits too.
Physical benefits
Any hobby that involves using your hands and fingers will help to maintain, and even improve, fine motor skills. For example, we've noticed that residents who had a tremor in their hands before regularly taking up one of these activities have become steady-handed just weeks later.
Try these hobbies to maintain fine motor skills:
Sewing
Knitting
Making model aeroplanes
Woodworking
Was your loved one in their element in the garden or on the dance floor? Hobbies that involve being physically active boost lung function, muscle strength and joint health, promoting physical wellbeing and independence. Gardeners too, benefit from the health-boosting effects of fresh air and sunshine.
Boosting brain function
Then there are the mental benefits that come from concentrating for longer periods of time, whether through recalling a recipe from memory, or making mental calculations. Such skills boost cognitive function and brain health, helping to keep the brain fitter for longer.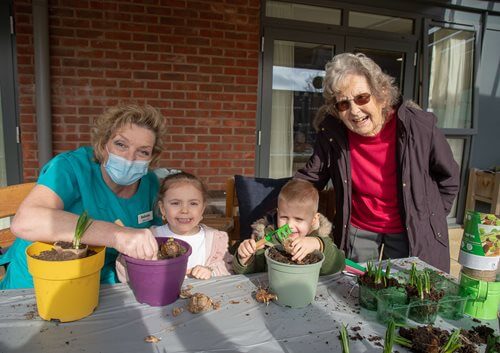 Enhancing social skills
Residents who are living with dementia have even more to gain from enjoying life-long hobbies. As a result of enjoying all the benefits above, we've seen that supporting people with dementia to take part in meaningful activities can slow the progress of their condition. What's more, people who seem to have lost the ability to speak in other situations, chat easily with others and even burst into song when doing the hobbies they love! Proof indeed that when you're doing something you love, amazing things can happen.
Take a look at our long lost hobbies campaign, which encouraged residents to share their favourite hobby and try a new way to pass the time.
Staying active with Care UK
At Care UK, we encourage residents to continue exploring their long lost hobbies - and to try new things - as they age, using positive risk taking in day-to-day outings and activities and our wishing tree initiative.
If you or an older loved one are looking for opportunities to reminisce or ways to stay active, speak to your local Care UK care home.