Hayley Collings, Care Assistant
Hayley started at the care home in spring 2020 – in the middle of the pandemic. Although new to care, she has taken to it like a natural.
Hayley has a Level 3 Certificate in Health and Social Care, which she completed at college, and she has experience through helping to care for her grandparents. However, she hadn't worked in a care setting before joining the team.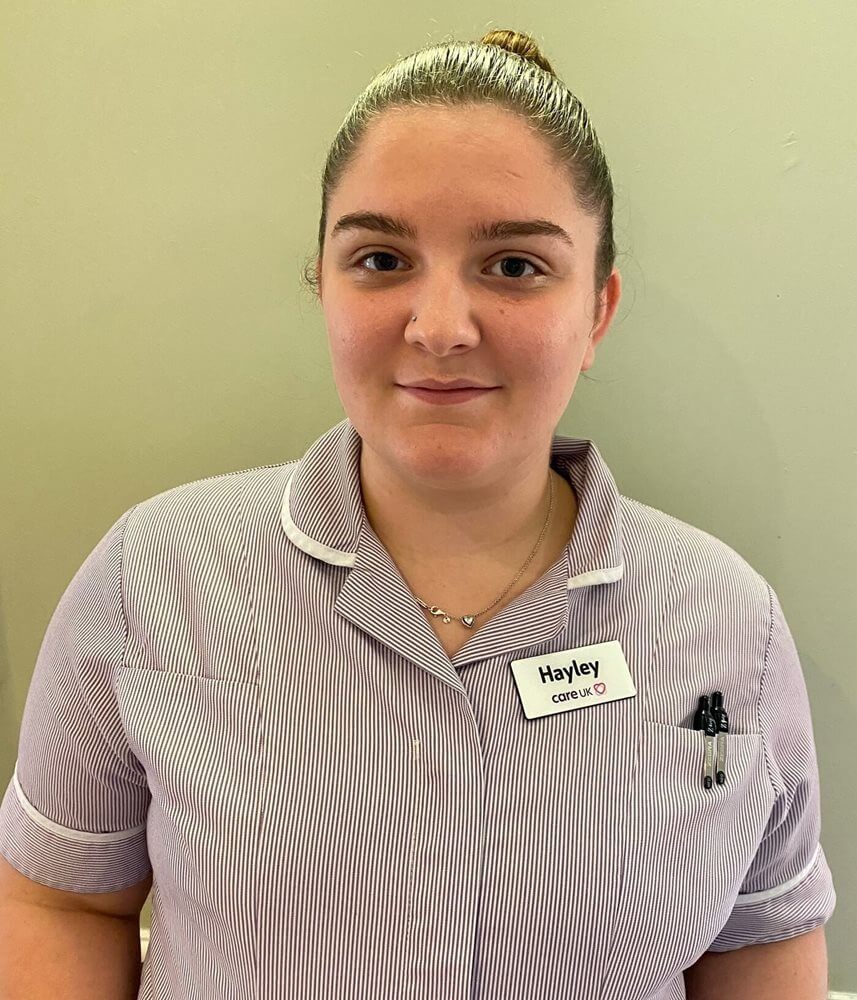 When she joined the home, she received practical training on the job. She was also buddied with an experienced colleague to learn the tasks she needed to do.
The team at Church View is extremely close-knit, and everyone supported her to learn and settle in. Many people have worked at the home for a long time, so there was always someone to answer questions or offer advice.
Hayley's working day begins with helping residents to get up and dressed. She supports them with personal care before taking them to breakfast where she supports them to get the nutrition/hydration they need. She will do the same at lunchtime. During the day, Hayley works one-to-one with residents, doing any activities they like, or just chatting.
Hayley cares for up to 24 of the residents. She is a natural carer, unfazed by anything and quick to learn. She'll learn about a person's family or interests and talk to them about that.
Most people just want a chat and to feel special.
Hayley
Hayley has become a valued member of the team. She will do anything for anyone, coming in at short notice to cover shifts, helping on days off. She has no issues with putting in extra hours as she loves what she does and spending time with residents. Colleagues and residents adore her.
Hayley makes time for people and has a winning way with a number of the residents who live with dementia. She'll go and chat to one particular lady who can become very agitated. Hayley will gently chat to her and reassure her and the lady quickly calms and her demeanour changes.
Another lady is unsteady on her feet and at risk of falling. Hayley has worked with her to build up her mobility and help her to walk safely, which has improved the lady's independence. She can now walk to the dining room by herself. Through her determination, empathy and patience Hayley empowers residents to succeed in their goals. Hayley meets every person on their own terms, understanding that independence looks different for different people and may be simply about enabling a person to make their bed or wash themselves, or eat independently at mealtimes.
In the words of Michelle, the Home Manager "Hayley loves the residents and is fascinated by their lives. She has learnt about every person and can tell you about everyone – their personality, their interests, their family, their life achievements, and little ways to calm and distract them, whether it's music, dancing or talking about sport. It's extremely impressive."
Hayley's plans now involve training to be a nurse in the longer term. Right now, she's training in the safe handling of medication – a move that will enable her to become a senior carer.