Determining

when a person

living

with dementia need

s

more help and support than a home carer can provide is a personal decision, unique to the individual and their needs.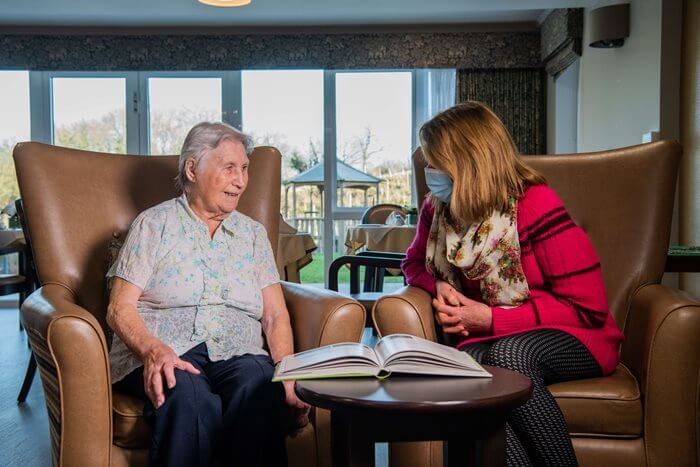 Unfortunately, that means there isn't a straightforward answer to when a person with dementia should go into a care home. But there are signs that you can look out for to help you make the best decision with your family member or friend.
The point at which your loved one should transition to a care home offering a safe environment with 24-hour care will depend on their circumstances, as well as the progression of their dementia. If your loved one is becoming more forgetful or struggling with everyday tasks like eating and dressing, it may be the right time to review your care options. Read about the nine signs to look out for when considering care for a loved one.
Where is the best place for someone with dementia?
Dementia experts at Care UK recognise that people living with dementia benefit from living in places that are familiar to them – but sometimes it's just not possible for a person to stay at home, either because the home isn't suitable or they can't get the level of care they need.
Benefits of living in a care home
A person living with dementia will move into a care home for several reasons:
They may make the decision themselves that they can no longer manage at home or are lonely.
They may be unable to manage themselves, having had frequent hospital admissions or falls, and family members decide they need 24-hour support.
Their main carer — a spouse, partner or family member – may no longer be able to cope with their increasing physical and psychological needs.
A care home will offer a safe and comfortable environment with round-the-clock care, as well as opportunities for making new friends and trying new experiences.
Care UK care homes provide:
Care that's tailored to your loved one's needs

Activities to keep your loved one active and social

Nutritious and delicious food made by trained chefs
Make their surroundings comfortable
Because people living with dementia can benefit from having familiar items around them, speak to the care home team about what objects or pieces of furniture you can bring in from their home.
How do you help someone with dementia who doesn't want help, or refuses to go into care?
Remember that this is a difficult time for your loved one, and the thought of moving to an unfamiliar place may frighten them. However, if they won't accept help and this is having an impact on their health and wellbeing, support is needed for the person and their family to identify the best way to move forwards.
Sometimes it can be as simple as having a family meeting – which can require some tough talking.
Other times, it may need a GP, mental health support team or social worker to get involved in making the best interest decision. (This is only if the person is assessed as not having the mental capacity to make the decision for themselves.)
The key to supporting someone to accept care is building trusting relationships, and that can take time to achieve. Having skilled carers who understand how to communicate and build trusting relationships helps.
What type of care is needed for people living with dementia?
Dementia affects different people in different ways – while some people will only need home care to provide help with dressing and medication, others will need more hands-on nursing care.
What Care UK care homes can provide
Many of our care homes offer care to meet different levels of need, and every colleague receives experiential dementia training to better understand the condition and its effects.
Our Dementia Champions also work to ensure that teams in each home are providing the highest standards of dementia care.
If you think a care home might be the best place for yourself or a loved one living with dementia, have a chat with the team at your local care home - use our search tool and filter by care type to find a suitable care home near you.