Hilda Kemp, aged 94, a resident at Care UK's Ambleside, on Evesham Road, made a wish to go on a traditional carousel again on the home's wishing tree – so when one came to town as part of the Christmas market, the team got busy planning the trip.
As part of the wishing tree initiative, the team at Ambleside encourage residents to submit wishes, no matter how big or small, whether they're related to something they've never been able to do, or something they'd like to do again.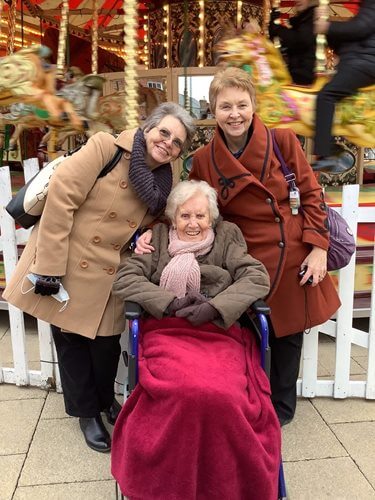 On the day, the home invited Hilda's nieces to join in on the fun as they headed to Stratford-upon-Avon's Christmas market to make her wish come true. Carousel enthusiast, Hilda was able to have a free ride on a Ginny horse, which gave her the opportunity to reminisce about her younger years, and especially those spent with her husband exploring markets and visiting fairgrounds together.
Hilda said: "It was amazing to ride on the carousel horses, I never ever thought I would ride on them again in my lifetime. I can't thank Ambleside enough for making my wish come true and to have my nieces with me was such a bonus."
Julia Joy, Home Manager at Ambleside, said: "We had a wonderful time at Stratford-upon-Avon's Christmas market, and Hilda loved every minute of it.
"She always speaks fondly of the years spent holidaying with her husband and enjoying carousel rides – it truly was a special thing for them, so being able to do it again after so many years was definitely emotional. Hilda's face said it all – she had a big smile on her face throughout.
"We're delighted we were able to make this happen for her, especially in the presence of her loved ones. Glad you enjoyed the carousel ride Hilda!"
Ambleside is a state-of-the-art care home which provides full-time residential, dementia and nursing care, as well as short-term respite care. Designed to enable its residents to live enjoyable and fulfilling lives, the care home has its very own cinema, café and hair salon, and there is plenty of space, both indoors and out, for relaxation and recreation.
For more information about Ambleside, call Home Manager, Julia Joy on 01789 868 298, or email, julia.joy@careuk.com.
For more general information, please visit careuk.com/ambleside.