A resident was given the surprise of her life when some unusual visitors arrived at her care home.
Pauline Wooliams, an 85-year-old resident at Care UK's Millers Grange on Curbridge Road, told her care team her greatest wish was to see a crocodile up close, so they immediately set to work to make her wish come true – although she was not expecting to see them up quite so close to home.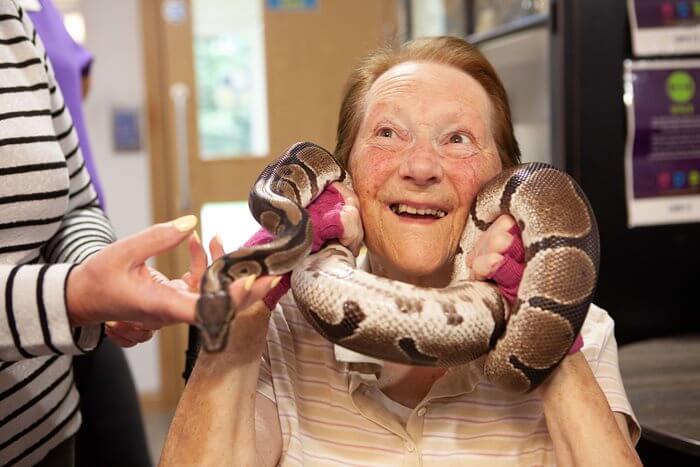 Pauline was amazed when the bearded dragon, reticulated python and three-year-old salt water crocodile, all crawled into the home. She was delighted to be able to get up close with the reptiles, stroking and even feeding them. A lifelong reptile lover, crocodiles are a firm favourite for Pauline and having them come to visit was very special.
The visit was part of the home's Wishing Tree Initiative, which encourages residents to put wishes forward, allowing them to reconnect with a past hobby or try something completely new – from flying on a plane to enjoying a fish and chip supper, no wish is too big or small.
When Pauline was raising her four children, they were interested in keeping reptiles and so the Woolliams household was home to all kinds of exciting creatures – from water snakes and green lizards to terrapins and tortoises. Pauline mentioned that she had taken her grandchildren to Crocodiles of The World, a zoo in Oxfordshire, about five years ago, and this memory has stuck with her – which is why she was keen to see the interesting animals up close once again.
The reptiles were brought into the home by Crocodiles of the World, and are friendly, relaxed and used to human contact.
I enjoyed the day very much. It brought back many memories from when my children were younger, as they had reptiles.
Pauline Wooliams, a resident at
Care UK's Millers Grange
Pauline said: "I enjoyed the day very much. It brought back many memories from when my children were younger, as they had reptiles. My favourite part of the day was when I got to hold all the reptiles first – I was excited to hold the crocodile as they look vicious but are really tame and friendly."
Mark Young, Customer Relations Manager at Millers Grange, said: "We don't accept that life at a care home has to be a particular way – we ensure there are no limitations to activities residents pursue and help all residents to lead independent, fulfilling lives, however they choose.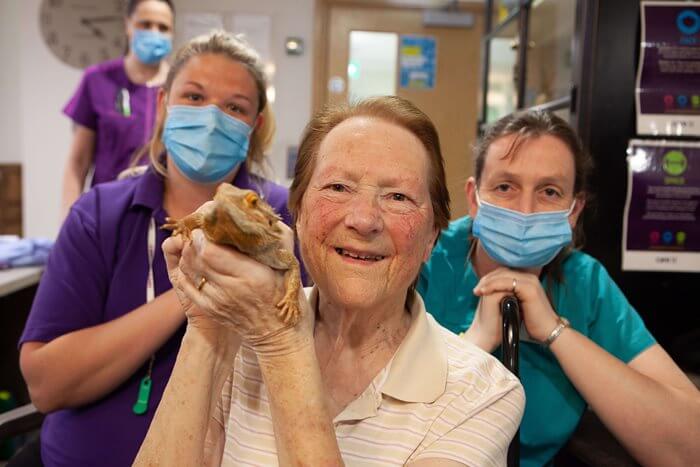 "We were delighted to be able to make such a unique wish come true for Pauline, as she has always talked about reptiles with a passion. It was wonderful to see her face light up when they arrived.
"It was a fantastic day that we will all remember for a long time."
Millers Grange has been designed to deliver the very best standards of care and to enable residents to live active and fulfilled lives. The home provides full-time residential, dementia and respite care.
To find out more about Millers Grange, please call Customer Relations Manager, Mark Young, on 01993 764730 or email mark.young@careuk.com.
For more general information, visit careuk.com/millers-grange.