A care home in Stratford-upon-Avon is celebrating as it welcomes one of the resident's siblings into the home.
Hilary Harper, a resident at Care UK's Ambleside, on Evesham Road, was reunited with her brother Alan, after he moved into the home – just in time for National Siblings Day.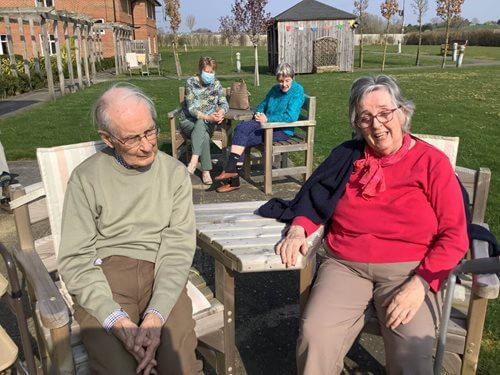 To celebrate Alan's arrival, the team at Ambleside arranged for Alan to surprise Hilary with the news that he would be living downstairs – once he was unpacked, he popped downstairs to visit his sister and let her know he had moved in. Knowing that Alan was moving in to be closer to his sister, this prompted many of the residents to share stories about their own siblings and happy childhood memories.
Alan said: "I was looking forward to moving to Ambleside as it now means I can visit my sister every day. It is nice to be able to walk in the garden or sit in the café together."
Julia Joy, Home Manager at Ambleside, said: "Everyone can see how close Hilary and Alan are and it is a joy to see them together again.
"Hilary always speaks fondly of her relationship with her brother Alan. It was a very emotional moment for Hilary when she saw her older brother moving into the care home after many years living apart – the smile on her face said it all.
"They've already attended a few activities together, including when the Piano man visits the home and they can often be found in each other's company, making the most out of living under the same roof again after so many years. We're looking forward to hearing their combined singing voices and to hearing many more stories from their childhoods."
Alan was born in Hall Green, Birmingham, on 25th July 1935 and joined the national service from 1954-1956. He then attended Cambridge University and studied French and German, before going on to learn Russian too. A teacher his whole life, Alan has lived in Solihull since 1967 before recently joining his sister at Ambleside.
The younger sibling, Hilary, was born 17th August 1941 and also became a schoolteacher, living most of her life in Radley, Oxfordshire, before moving to Alcester in 2011 then Ambleside ten years later. A keen singer, she used to sing in choir – a passion she shares with her brother, although he agrees she's always been the better vocalist.
Ambleside is a state-of-the-art care home which provides full-time residential, dementia and nursing care, as well as short-term respite care. Designed to enable its residents to live enjoyable and fulfilling lives, the care home has its very own cinema, café and hair salon, and there is plenty of space, both indoors and out, for relaxation and recreation.
For more information about Ambleside, call Customer Relations Manager, Staci Reeson on 01789 868 298, or email, staci.reeson@careuk.com.
For more general information, please visit careuk.com/ambleside.