Two care homes in Kent marked the Victory in Europe Day anniversary with special events.
Residents at Care UK's Foxbridge House, in Orpington, and Montfort Manor, in Ashford, marked VE Day with live musical performances, garden parties and afternoon tea to celebrate the historical milestone.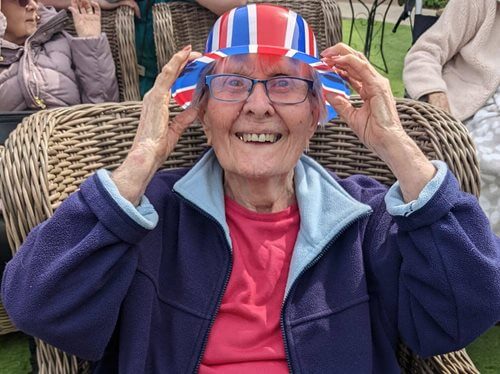 At Montfort Manor, residents enjoyed a garden party with live entertainment from former RAF Squadron leader, Martin Farbrother, who performed several classical songs from the 1940s, including Vera Lynn's 'We'll Meet Again'. The home's garden was adorned with bunting, with residents adding to the colourful atmosphere with union jack flags and hats.
At Foxbridge House, residents tested their VE Day knowledge with a quiz, before enjoying a quintessentially British afternoon tea, including cake and scones, thoughtfully prepared by the home's head chef. The home team also played hits from the 1940s to encourage residents to tap their feet and share memories of the historical day.
Jean Reeves-Yates, Home Manager at Montfort Manor said: "VE Day was 77 years ago, yet some residents remember it like it was yesterday. We had a wonderful time hosting our special celebration at Montfort Manor – the sun was certainly shining for Martin's performance in the garden, which both residents and team members thoroughly enjoyed."
Stella Barnes, Home Manager at Foxbridge House, added: "It was great to hear the heart-warming stories from residents – events like these are a wonderful way to encourage reminiscence, which can be incredibly beneficial for older people, especially those living with dementia.
"We'd like to say a big thank you to residents for sharing their memories with us; they reminded us just how lucky we were not to have experienced a conflict of this scale in our lifetime."
Foxbridge House and Montfort Manor have been designed to deliver the very best standards of care and to enable residents to live active and fulfilled lives. The homes provide full-time residential, nursing and dementia care, as well as short-term respite care.
For more information about Foxbridge House, please call Customer Relations Manager, Dorothy Ayonmike, on 01689 769 229, email dorothy.ayonmike@careuk.com or visit careuk.com/foxbridge-house.
For more information about Montfort Manor, please email Customer Relations Manager, Niki Young, at niki.young@careuk.com, call 01233 884 619 or visit: careuk.com/montfort-manor.