Love was in the air at an Ipswich care home when two residents celebrated a very special milestone.
Barbara, 93, and Derek Hunwicks 92, toasted their 70th wedding anniversary at Care UK's Prince George House, on Mansbrook Boulevard, where they both live.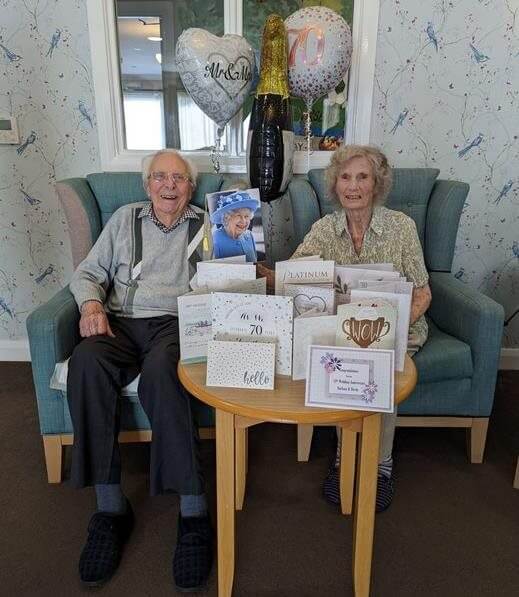 The pair met when they were 18 years old, when Derek was called for national service, and Barbara worked in the land army. As Derek was based overseas, they wrote letters to each other for more than two years, before Derek returned and asked Barbara to be his wife.
Barbara said: "It was true love, it always has been."
The pair got married in Hornchurch on 15th June 1952 and went on to have four children together.
Derek added: "There is no real secret to a long marriage. It is all about love – if you have love, then you can get through anything."
To toast the special milestone, the couple spent the day with their children reading their many cards of congratulations and enjoying a slice of their special anniversary cake baked by the home's head chef. As well as reflecting on their many happy years, Barbara and Derek were thrilled to receive their very special card from the Queen.
Jennie Rodger, Home Manager at Prince George House, said: "Here at Prince George House, we regularly celebrate big anniversaries and understand the importance of maintaining relationships and celebrating life's milestones. We were honoured to be a part of such a special moment for Barbara and Derek. They are truly inseparable, and we can all learn a thing or two from their long-lasting marriage.
"Marking such a special occasion at the home allowed many of the residents to reminisce and share fond memories of their own wedding days – it was lovely to hear their stories too. Happy anniversary Barbara and Derek!"
Prince George House is a modern purpose-built care home providing full-time residential, nursing, and dementia care, as well as short-term respite care. Designed to enable residents to live enjoyable and fulfilling lives, the care home has a choice of lounges and dining rooms, along with facilities such as an activity room, cinema and hair salon.
For more information about Prince George House, please contact Home Manager, Jennie Rodger, on 01473 852964, email jennifer.rodger@careuk.com or visit: careuk.com/prince-george-house.