A 103-year-old Bury St Edmunds care home resident celebrated her third year as a centenarian.
Olwyn Hopkins, from Care UK's Davers Court, on Shakers Lane, celebrated her 103rd birthday on 31st May. Reflecting on her many happy years, she revealed she has 'no idea!' what the secret to her long life is, but that she is 'fiercely independent' and 'always optimistic'.
To celebrate the occasion, the team at Davers Court decorated the home with birthday banners and balloons while the head chef prepared a special afternoon tea, which Olwyn enjoyed with her Davers Court family and constant stream of guests popping by to celebrate.
Olwyn said: "I had a wonderful birthday. The sun was shining, and I loved being able to get out in the good weather and see my friends to celebrate."
Sally Shadbolt, Home Manager at Davers Court, added: "We had a wonderful time celebrating Olwyn's milestone birthday with her family and friends at Davers Court.
"We always strive to support residents to lead fulfilling lives and celebrating birthdays plays a huge part in this. We love nothing more than an excuse for a party, and a reason to celebrate the wonderful people we have living here at Davers Court.
"Olwyn is a much-loved resident at the home, has achieved incredible things, and we were thrilled to raise a glass to her life so far. She is a wonderful lady, and we are proud to have her as part of our Davers Court family."
Olwyn was born in Wales in 1919, before moving to Portsmouth aged 11. She left school at the age of 15, as the Second World War began, and began her first job in The Admiralty. She met her husband, David, on Brighton Pier, who worked for The Monopolies Commission at 11 Downing Street.
Olwyn went to tea at number 10 with David many times and even attended a garden party at Buckingham Palace where she met the Queen. The couple were unable to have children, and so Olwyn chose to love the children of her friends and family instead, often driving all over the country to visit them.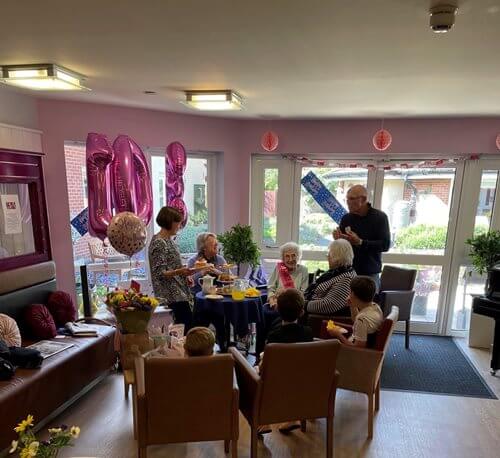 After retirement, Olwyn spent even more time with loved ones and her many 'adopted grandchildren', and regularly received more than 100 Christmas cards every year. She continued to drive until the age of 92 years old and lived at home until the age of 98.
In 2017, Olwyn moved into Davers Court, where she celebrated her 99th birthday in style. Olwyn wished to fly in a glider plane for the special occasion, which was organised by the home's team. She plans to fly again later this year, this time to mark her 103rd.
Davers Court is a modern care home which provides full-time residential and dementia care, as well as short-term respite care. Designed to enable its residents to live enjoyable and fulfilling lives, the care home has its very own cinema and hair salon, and there is plenty of space both in and outdoors for relaxation and recreation.
To find out more about Davers Court, please call Customer Relations Manager, Chantal Sencier, on 01284 844640, or email Chantal.sencier@careuk.com.
For general information please visit, careuk.com/davers-court.