A care home in Horley was joined by some unusual friends for a special afternoon of animal fun.
Residents at Care UK's Amherst House, on Court Lodge Road, gathered to welcome two friendly alpacas, Hugo and Finlay, into the home's lounge where they received plenty of fuss and attention.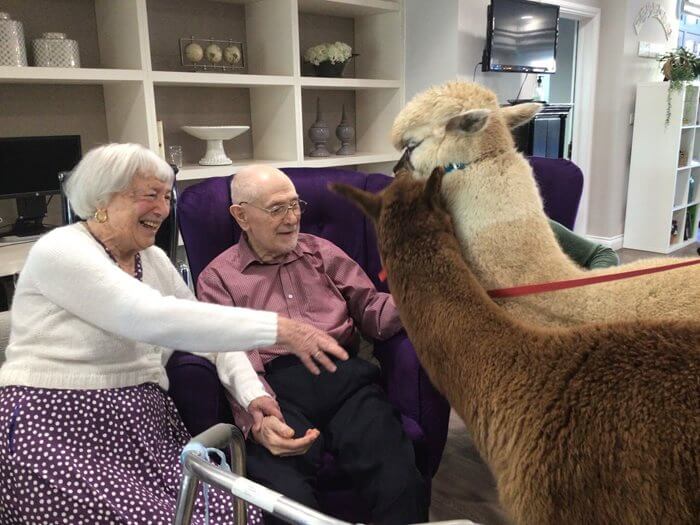 As part of the animal therapy session, residents learnt about the history and characteristics of alpacas, as well as other interesting facts about the calming animals.
Commenting on the visit, resident, Christine Mahoney, said: "I loved Hugo and Finlay! I was waiting for them to come down in the lift – something you don't see very often! Both of them were incredibly friendly and had such long eyelashes! I can't wait for them to come again."
Cristina Cristea, General Manager at Amherst House, said: "We had a wonderful afternoon welcoming our very special guests, Hugo and Finlay, to Amherst House.
"We are always looking for new and exciting activities for residents to enjoy that offer a memorable experience, likely not enjoyed before. Animal therapy has proven to be incredibly beneficial for older people, as it can be calming, prompt conversations, and put a smile on everyone's faces. Alpacas are known for being gentle animals, which makes them perfect for care home visits.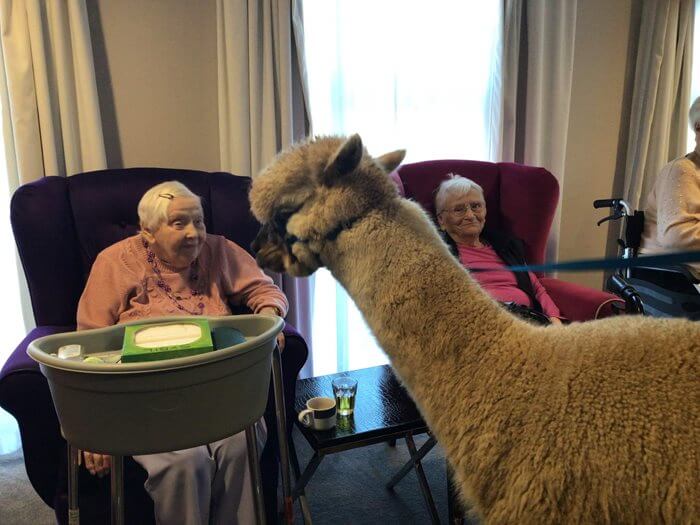 "It was lovely to welcome Hugo and Finlay into the home, and we look forward to welcoming them and other animals, big or small, to Amherst House in the future!"
Amherst House has been designed to deliver the very best standards of care and to enable residents to live active and fulfilled lives in a luxury environment. The home provides full-time residential care, nursing care, dementia care and respite care.
To find out more about Amherst House, please call Customer Relations Manager, Terri Rowe on 01293 735820, email terri.rowe@careuk.com or visit: careuk.com/amherst-house