An 84-year-old retired schoolteacher at a care home in Cheadle has been reading popular bedtime stories to local children as part of a nationwide initiative to celebrate National Storytelling Week.
Cheadle may seem a little quieter than usual after Jackie Horsfield from Care UK's Abney Court, in Abney Hall Park, welcomed the children from Kids Allowed Cheadle Royal Nursery into the home for a retelling of Julia Donaldson's classics, including The Gruffalo and Stick Man.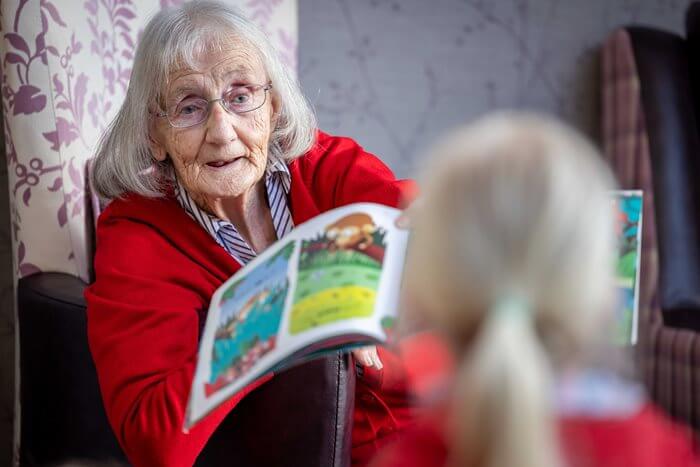 The young children came dressed as their favourite book characters and Jackie brought her many years of teaching experience to the special reading session. After setting the creative mood with her retelling of the popular books, the youngsters were inspired to get stuck in and create books of their own in a fun craft session.
To celebrate National Storytelling Week, Care UK has created the Bedtime Stories initiative which sees residents across the UK read classic bedtime stories to young children. The campaign, which includes the launch of four free videos of residents reading famous stories, ensures children who may not have a grandparent do not miss out on a magical tale before bedtime.
After getting the chance to put her teacher's hat back on for a day, Jackie said: "I had so much fun reading to the children – I especially enjoyed seeing the children's faces light up when I added my own twist to the ending!"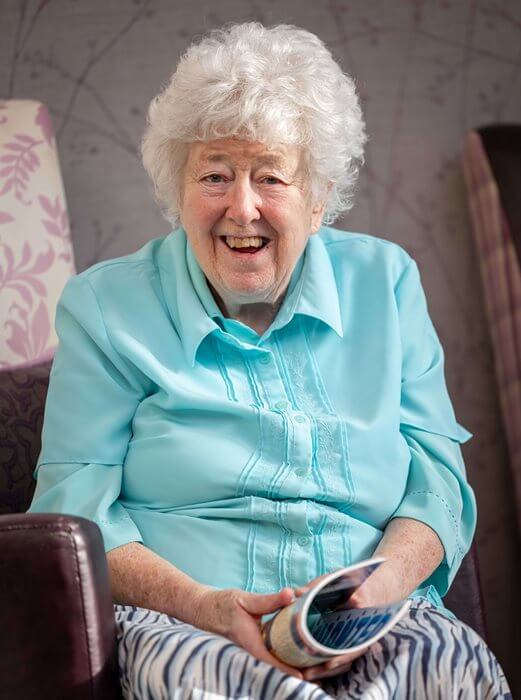 Amcia Hara, Home Manager at Abney Court, said: "We've had a wonderful week of storytelling here at Abney Court. Whether it's Peter Pan flying us to Neverland or Alice taking us down the rabbit hole, children's literature is often the first key to unlocking our imaginations and nurturing a lifelong love of reading – so it was great to welcome the children to Abney Court to hear all about the adventures of The Gruffalo.
"Intergenerational relationships and initiatives, like Bedtime Stories, can be incredibly beneficial to both younger and older people alike and can provide residents with a sense of wellbeing and purpose.
"It has been heart-warming to see the residents share stories from their own childhood and to hear Jackie's many memories of her years teaching. We look forward to welcoming the children back to Abney Court very soon."
To watch four Bedtime Stories read by Care UK residents, or for more information about the Bedtime Stories initiative, visit: careuk.com/bedtime-stories
Abney Court has been designed to deliver the very best standards of care and to enable residents to live active and fulfilled lives. The home provides full-time residential and dementia care, as well as short-term respite care. The care home incorporates space for hobby and leisure activities and includes its own cinema, hair salon and café.
To find out more about Abney Court, email Amcia Hara, Home Manager at amcia.hara@careuk.com or call 0161 660 5713.
For more general information, please visit careuk.com/abney-court