Three couples at a local care home celebrated Valentine's Day by sharing their secrets to a long and happy marriage.
To celebrate Valentine's Day, the team at Care UK's Invicta Court, on Pond Way, encouraged three resident couples living at the home to reminisce about their early days together and reveal their secrets to a long and happy marriage.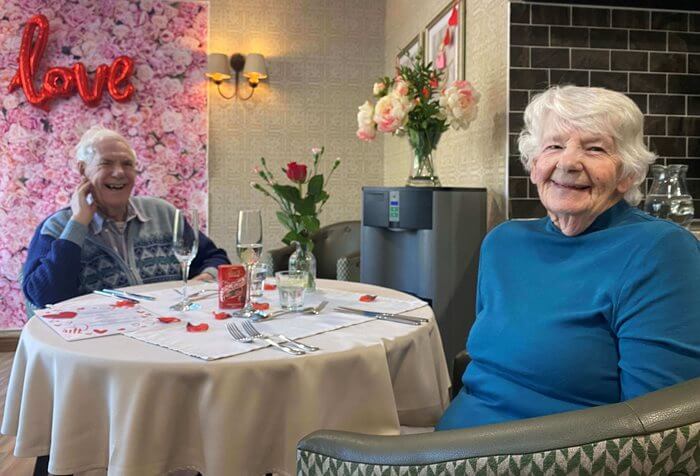 On the big day, the home's Head Chef planned a special Valentine's meal for the loved-up trio. The meal included a starter of Cherry Tomato & Caramelised Onion Tart Tatin, followed by the main course, which was Pan-Fried Seabass served with Hasselback Potatoes & Buttered Greens, and a dessert of Raspberry and White Chocolate Brownie with Chantilly Cream.
Keen for the home's setting to match the theme of the day, team members ensured love was truly in the air by decorating the home's dining room with rose petals, flowers, and balloons.
Attending the special dinner party was couple, Leslie and Nora Weeding, who first met in 1957 when their mutual friend set them up on a blind date. The two shared their first date on the steps of their local town hall, where Leslie recalls receiving an electric shock when he first held Nora's hand: "A shock went up through my arm, I think telling me she was the one".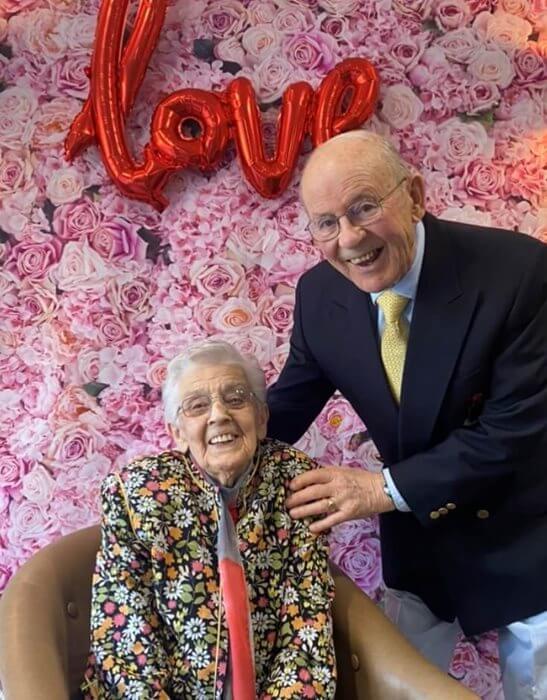 The couple married at Luke's Church in Gillingham on the 7th March 1959, and later brought a home in 1976 that was directly opposite the church.
Also attending the dinner was married duo, Donald and Ruth Niblett who met in 1956 at a church bell-ringing club. This year, the couple will be celebrating their 65th wedding anniversary after marrying in 1958 in a church in Rye. Commenting on the secret to a happy marriage, the two agreed: "You have to find the right partner – then it just works and clicks together."
The dinner was also attended by residents Gordon and Rita Tatham. The couple met in 1965 and married two years later in 1967 with a church wedding in a small town called Peasmarsh. Commenting on their secret, the couple said: "You have to give and take. You're not going to agree on everything so pick your battles!"
Sara Barbosa, Home Manager at Invicta Court, said: "Gordon and Rita, Leslie and Nora, and Donald and Ruth, are three love stories for the ages – each couple is truly inseparable, and we could all learn a thing or two from their long-lasting marriages.
"We thought Valentine's Day was the perfect opportunity to encourage them to reminisce while treating them to a special romantic meal. It was great to be able to organise a special 'date night' for each of them.
"Love truly is in the air at Invicta Court, and many of the residents have also been reminiscing and sharing fond memories of their own wedding days; it was lovely to hear their stories too. We'd like to say a big thank you to each of the resident couples here at Invicta Court for their wise words – their 'give and take' philosophy has certainly given us food for thought."
Invicta Court offers a full range of permanent residential care and short-term respite in luxurious surroundings, including a café, hair and beauty salon, bar and cinema. The highly trained, professional team also delivers specialist dementia care.
For more information on Invicta Court contact Customer Relations Manager, Jaime Jukes, on 01622 291749, email jaime.jukes@careuk.com or visit: careuk.com/invicta-court