Residents at a local care home were delighted when they were visited by a donkey from a nearby stable.
There was excitement from both residents and the team at Care UK's Rossetti House, on Welshmill Lane, when the new visitor – called Barney – trotted in.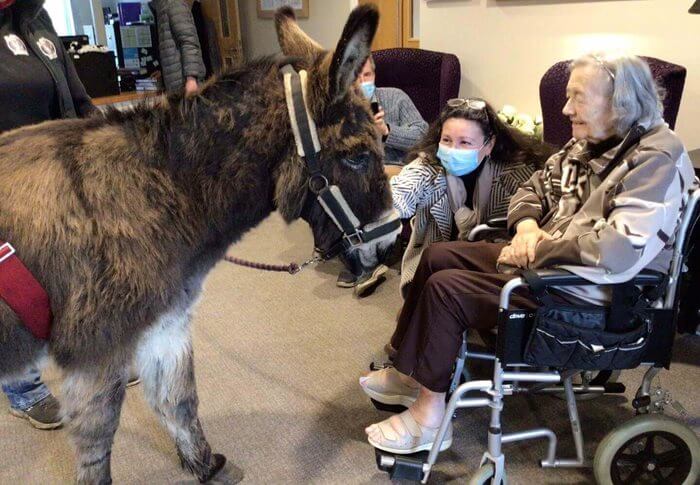 The afternoon kicked off with a tour around the home and the grounds, followed by an interesting talk from the donkey's handler, Kelly, from Kelly's Donkeys. Residents were able to learn more about the friendly creatures, including how they are cared for and their personalities.
Barney visited every single resident in the home and was treated to plenty of fruit, cuddles and affection.
One animal-loving resident, Nora, aged 83, said "I wish I could have put Barney in my pocket and kept him here."
Phil Vale, General Manager at Rossetti House, said: "We love welcoming any type of furry friend into our home. Animal therapy has an incredibly positive effect on mental wellbeing, especially for older people, as it can be calming, boost confidence and help to prompt conversations.
"It wasn't just the residents who enjoyed Barney's visit, members of the Care UK team loved taking him for a walk around the home to ensure everyone had the opportunity to meet him, as well as some cuddles and petting. He was well and truly spoiled by everyone he came into contact with."
Designed to enable residents to live active and fulfilled lives, while also promoting independence, Rossetti House incorporates space for hobby and leisure activities. The building has been designed to help facilitate the creation of close-knit communities and encourage social interaction among the residents.
For more information on Rossetti House, please call Home Admissions Advisor, Helen Cross on 01373 887988, email helen.cross@careuk.com or visit: careuk.com/rossetti-house