A care home in Cheadle stepped up to raise funds for a worthwhile charity – and were joined by some VIP guests.
Residents at Care UK's Abney Court, in Abney Hall Park, aged between 70 and 93, have taken part in a special sponsored walk and raised over £220.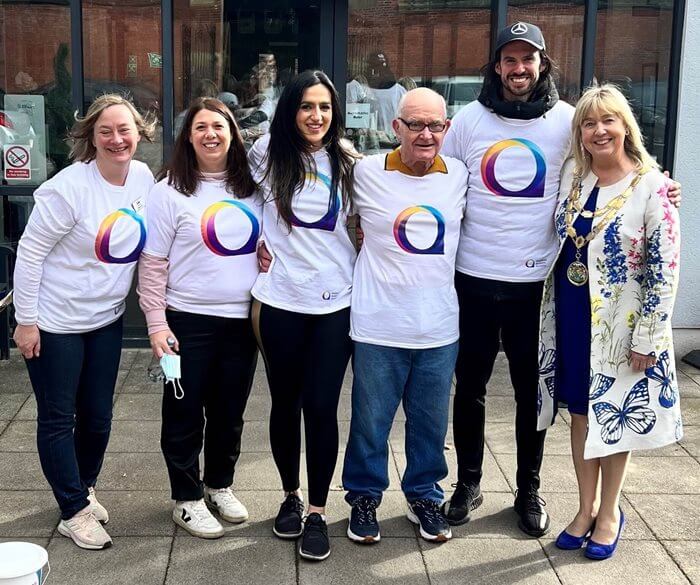 The Deputy Mayoress of Stockport, Councillor Linda Holt, and footballer for Peterborough United FC, George Boyd, joined residents for the 2.3km walk.
The funds are being donated to the National Autistic Society. Dedicated to providing support services and facilities to help the over 700,000 autistic people in the UK, the charity runs specialist schools, campaigns for improved rights and trains companies to be more autism-friendly.
Bernard O'Neil, 70-year-old resident from Abney Court, worked closely with children living with autism at a convent school for children with special needs in London, which inspired him to help raise money for the National Autistic Society.
The sponsored walk took place on local paths, with everyone venturing into the local area through Abney Park. With determination, smiles and a pit stop at local pub, The Ashlea, to refuel, five brave residents took on the 2.3-km-long, fundraising walk.
Zimmer frames and wheelchairs were no obstacle for the residents and with the help of relatives and team members, everyone was encouraged to complete the walk and cross the finish line.
Bernard commented: "With the help of the team, we organised a successful fundraising event here at Abney Court, to help raise money for the National Autistic Society – an organisation close to my heart."
Amcia Hara, Home Manager at Abney Court, said: "We love a challenge here at Abney Court – especially when it's for a good cause.
"Our sponsored walk was a great opportunity to support a wonderful organisation, the National Autistic Society, all while encouraging everyone to get active. Walking is a fantastic activity for older people – it's accessible, gentle on the joints and often encourages residents to get outside and explore, which does wonders for the mood.
"We'd like to say a big thank you to everyone who got involved or donated and a huge well done to Bernard! We're already looking forward to our next fundraising event – and we hope to visit the National Autistic Society very soon."
Abney Court has been designed to deliver the very best standards of care and to enable residents to live active and fulfilled lives. The home provides full-time residential and dementia care, as well as short-term respite care. The care home incorporates space for hobby and leisure activities and includes its own cinema, hair salon and café.
To find out more about Abney Court, email Erminia Anglesea, Customer Relations Manager at Erminia Anglesea erminia.anglesea@careuk.com or call 0161 660 5713.
For more general information, please visit careuk.com/abney-court