A care home in Horsham welcomed local nursery children to celebrate World Book Day.
Residents at Care UK's Skylark House, on St Mark's Lane, were joined by children from Holbrook Community Preschool for a fun afternoon to celebrate their love of books.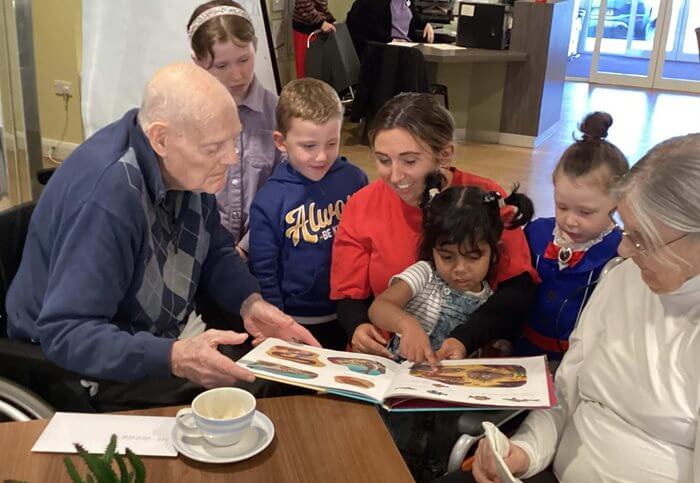 To mark the special day, the children dressed up as their favourite characters and brought along their most-loved books for the residents to read to them. Ensuring the scene was set for a storytelling afternoon, the team at Skylark House created a reading nook, complete with blankets and toys, for the children to get cosy.
Commenting on the afternoon, resident, Anne Hill, aged 76, said: "It was so lovely to have the children visit Skylark House. It reminded me of when my grandchildren were little, and I would read to them."
Dorota Woloszyn, Home Manager at Skylark House, said: "At Skylark House, we enjoy working closely with the local community, and were delighted to celebrate World Book Day with Holbrook Community Preschool.
"The interactions and affection between the residents and the children was lovely to see – they loved spending time with each other.
"We are always looking for innovative ways to involve residents in activities and encourage new friendships, and this session was a great opportunity to create special bonds across the generations – young and older people alike really benefit from the time spent together. We look forward to another visit from the children very soon!"
Skylark House has been designed to deliver the very best standards of care and to enable residents to live active and fulfilled lives. The home provides full-time residential, nursing and dementia care, as well as short-term respite and palliative care.
For more information on Skylark House, please call Customer Relations Manager, Beverly Jordan, on 01403 887 578 or email beverly.jordan@careuk.com
For more general information, please visit: careuk.com/skylark-house