A care home in St Ives has received the seal of approval from a national care watchdog, and been praised by both its residents and relatives.
The Care Quality Commission's (CQC) report gave Care UK's Field Lodge, on London Road, an overall 'good' rating, following an unannounced inspection.
The home is rated 'good' in all five categories, including safety, responsiveness, effectiveness, quality of care, and having a well-led service.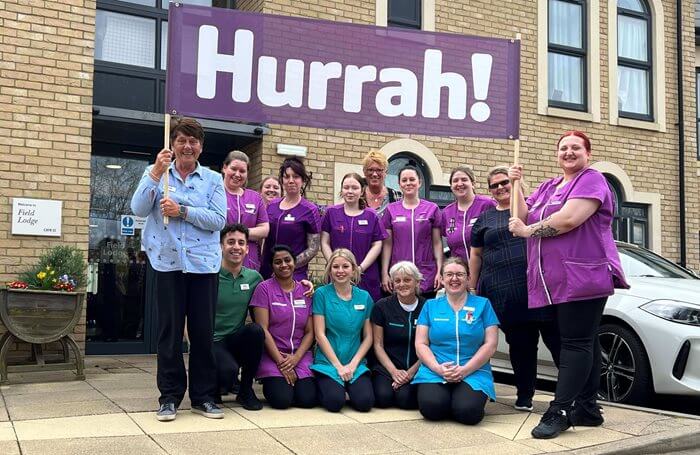 The team was commended for the care they gave, and people's views were sought through regular meetings and via questionnaires. Relatives were complimentary about the care home, one relative said: "Extremely well cared for. It is the caring nature of such young carers, who are extremely dedicated and who are very fond of my [family member]. That much is obvious."
The home manager was commended for her helpfulness and providing weekly updates via email and informing relatives of activities that are available to the residents. Relatives were complimentary about the manager and said: "I have spoken to her on a couple of occasions and found her very helpful and willing to give us a time to speak to her."
The team at Field Lodge prides itself on being supportive and promoting the autonomy of residents by giving them maximum choice and control of their lives in the least restrictive way possible. Always placing the resident's best interests first; the policies and systems in the home support this practice.
Residents and their relatives were involved in the planning of their care and recognised this as being key to helping residents live well especially those living with dementia.
The team were empowered and supported, through the training and guidance they received from the management and the senior colleagues, to deliver care to residents which supported their safety and wellbeing.
Linda Martinez, Home Manager at Field Lodge, said: "It's fantastic to read the positive feedback from the CQC inspectors. It's a true testament to the team's passion and devotion to providing the highest standard of care to ensure residents live truly fulling lives.
"I would like to express my sincere thanks to everyone at Field Lodge for their commitment, especially over the past few years. I appreciate all they do on a daily basis because they make our care home such a wonderful place for all of the residents to live and such a great place to work.
"I'm looking forward to celebrating this result with the residents and the team and building on our success in the future."
To assess standards at Field Lodge, the Care Quality Commission inspectors spoke with team members, residents, and their visiting relatives on the day of inspection. They also reviewed the records and procedures in place at the care home.
Field Lodge is a modern, purpose-built care home providing full-time residential, nursing, and dementia care, as well as short-term respite care. Designed to enable residents to live enjoyable and fulfilling lives, the care home has a choice of lounges and dining rooms, along with facilities such as an activity room, cinema and hair salon.
For more information about Field Lodge, contact Home Manager Linda Martinez on Linda.Martinez@careuk.com or call 01480 877638.
For general information, visit careuk.com/field-lodge