A former British Rally Car Driver celebrated his 101st birthday with a very special racing-themed party at an Ashford care home.
A very special celebration took place at Care UK's Montfort Manor, in Ashford, Kent, when resident John LaTrobe, turned 101 years 'young' on 28th April.
For John's milestone birthday, the home team organised a surprise party, surrounded by his friends and family at Montfort Manor, and complete with balloons, banners and a special birthday cake, baked by the home's talented head chef, for everyone to enjoy.
Keen to celebrate John's pioneering car rallying career, the team at Montfort Manor organised for a stock car to make a surprise appearance at the party – much to John's delight. With the engine roaring and 'happy birthday' playing from the vehicle, John was thrilled to watch the car drive up to Montfort Manor. Proving every day is a school day, John and the car's owner, both former racing car drivers, exchanged top racing tips and their favourite memories rallying cars around Europe.
John was born on 28th April, 1921 in Charing Heath, Kent. After growing up on his dad's farm, John was made exempt from joining World War 2, as farmers were needed at home to continue growing produce. After the war John stared his own business as a dealer of earth moving and military vehicles.
Passionate about motoring and cars, John spent his spare time learning more about racing and practicing his driving where he could. In 1955, John purchased the Brafield racing track, now known as the Northampton International Raceway, and later held the regions first stock car event on the 15th August, 1955. Brafield went on to be known as Britain's friendliest race track, with a reputation for British oval racing.
John's hobby soon became a back seat to his official racing career, which saw John take part in 18 rallies across the world, including the Monte Carlo Rally in January 1965, where he finished 16th out of 237 starters. John also raced in the London to Sydney marathon in 1968. Despite a thrilling race across the world, John's Mini broke down just three miles from the finishing line – a memory John often chuckles about.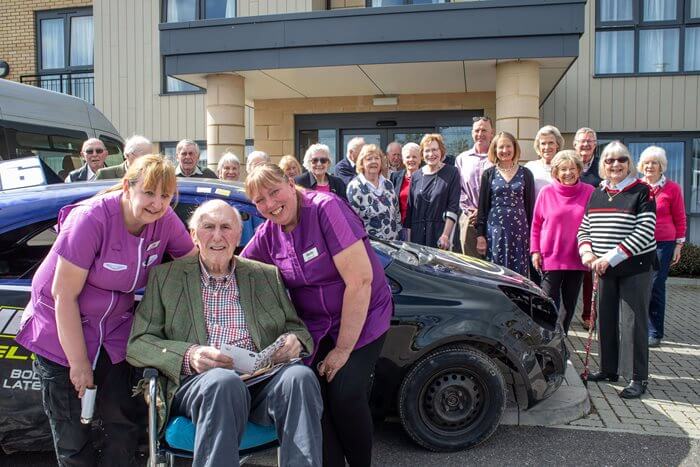 Commenting on the afternoon and turning 101, John said: "It was a real surprise to hear the roar of the stock car as it brought back many fond memories of my days being on the race track."
Joanne Eaton, Home Manager at Montfort Manor, said: "With John being a former international rally car driver, we knew we had to go the extra mile to celebrate this fantastic milestone. We were delighted to bring a bit of John's racing past to his birthday celebrations here at Montfort Manor.
"Everything we do is focused on our ethos of ensuring residents live active and fulfilling lives, so we always like to celebrate important milestones – and John's 101st birthday was no exception. It was lovely to raise a glass together on his special day and celebrate the day in true racing style with his extended family here at Montfort Manor – cheers John!"
Montfort Manor is a purpose-built care home which has been designed to enable residents to live active and fulfilled lives, while also promoting independence. The home provides full-time residential, nursing and specialist dementia care for older people in Ashford, as well as short-term respite care.
For more information on Montfort Manor, please email Customer Relations Manager, Niki Young, at niki.young@careuk.com or call 01233 884 619.
For more general information please visit: careuk.com/montfort-manor