Residents at a care home in Newmarket have been reading well-known bedtime stories to a local mother and baby group as part of a nationwide initiative to celebrate National Storytelling Week.
Newmarket may seem a little quieter than usual after residents from Care UK's Kentford Manor, on Jeddah Way, welcomed young mothers and their newborns into the home's lounge for a retelling of Peter Rabbit by Beatrix Potter.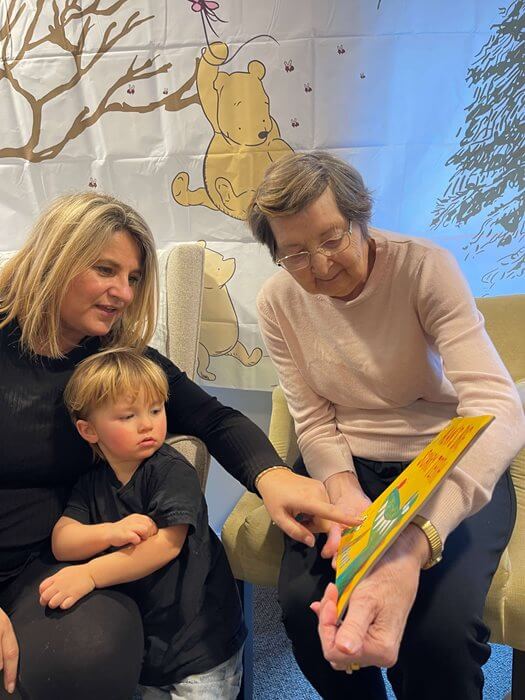 To celebrate National Storytelling Week, Care UK has created the Bedtime Stories initiative which sees residents across the UK read classic bedtime stories to young children. The campaign, which includes the launch of four free videos of residents reading famous stories, ensures children who may not have a grandparent do not miss out on a magical tale before bedtime.
At Kentford Manor, 81-year-old resident, Gillian Maurer, read Alan's Big Scary Teeth to Freddie, aged two. Gillian said: "It was lovely to welcome the children into the home and to see their reactions to the characters as we read to them. I read to my daughter when she was younger, and I believe a good bedtime story settles a child ready for bed and lets them use their imagination."
Claire Brooks, Deputy Manager at Kentford Manor said: "We've had a wonderful week of storytelling here at Kentford Manor. Whether it's Peter Pan flying us to Neverland or Alice taking us down the rabbit hole, children's literature is often the first key to unlocking our imaginations and nurturing a lifelong love of reading – so it was great to welcome Newmarket's youngest neighbours to Kentford Manor.
"We all remember stories told to us as children, often before bedtime, and find comfort in adulthood in these nostalgic memories. We're thrilled Care UK has launched the bedtime stories initiative – it's wonderful to have children benefiting from residents reading them stories both in our home and right across the UK with the fantastic videos.
"Intergenerational relationships and initiatives, just like this one, can be incredibly beneficial to both younger and older people alike and can provide residents with a sense of wellbeing and purpose.
"It has been heartwarming to see the residents share stories from their own childhood and reading Peter Rabbit with the group's toddlers. We look forward to welcoming the children back to Kentford Manor very soon."
To watch four Bedtime Stories read by Care UK residents, or for more information about the Bedtime Stories initiative, visit: careuk.com/bedtime-stories.
Designed to enable residents to live active and fulfilled lives, while also promoting independence, Kentford Manor, incorporates space for hobby and leisure activities. The building has been configured to help facilitate the creation of close-knit communities and encourage social interaction among the residents.
For more information on Kentford Manor, please contact Home Admissions Advisor at Kentford Manor, Denis Green, on 01638 779594, email Denis.Green@careuk.com or visit careuk.com/kentford-manor.