A resident at a care home in Solihull celebrated her 100th birthday with a surprise party with family and friends.
A very special birthday celebration took place at Care UK's Blossomfield Grange, on Worcester Way, when resident Esme Turner, turned 100 years 'young'.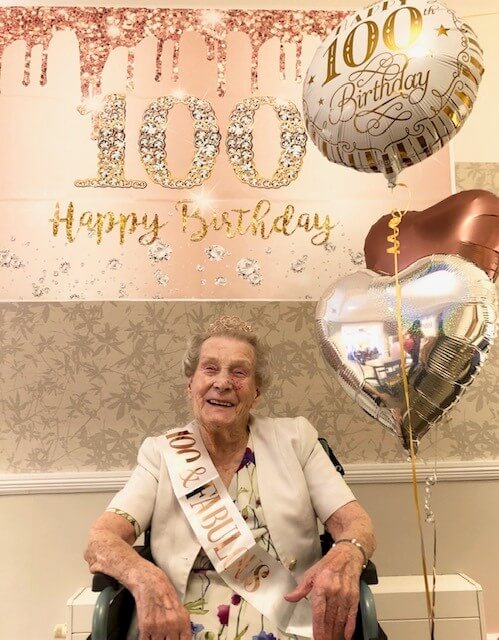 To celebrate, the care home team decorated the lounge with balloons and banners, and the home's talented head chef baked a special birthday cake for everyone to enjoy at a surprise afternoon tea party.
Commenting on her secret to reaching 100 years of age, Esme said: "Don't stop dancing – regardless of how old you get."
Esme was born on 20th January 1923 in neighbouring town to Solihull, Yardley. After finishing school, Esme joined the Women's RAF in 1942, where she was stationed in Blackpool to carry out her training. It was in Blackpool, home to the UK's largest ballroom dance floor, that Esme found her love of dancing. During her free time, Esme would often visit the ballroom and watch the dancers perform to help her practice her own style.
Later in 1943, aged 19, Esme married her husband, Ronald. The couple welcomed their son, Alan, one year later in 1944.
Jo Hopkins, Director of Community Relations at Blossomfield Grange, said: "Here at Blossomfield Grange, we always like to throw a party for special milestones – and Esme's 100th birthday certainly called for a celebration!
"It was fantastic to help her mark this incredible milestone with her family and friends here at the home with a surprise afternoon tea party, and to raise a glass to her fantastic achievement – cheers to Esme!"
Designed to enable residents to live active and fulfilled lives, while also promoting independence, Blossomfield Grange incorporates space for hobby and leisure activities. The home has been configured into a series of neighbourhoods to help facilitate the creation of close-knit communities and encourage social interaction among the residents.
To find out more about Blossomfield Grange, contact Director of Community Relations at Blossomfield Grange, Jo Hopkins, on 0121 392 7833 or email Jo.Hopkins@careuk.com.
For more general information, please visit careuk.com/blossomfield-grange.