A 102-year-old St Ives care home resident has revealed the secret to living a long and happy life.
Olive Doris May Turpie, who lives at Care UK's Field Lodge, on London Road, marked her 102nd birthday on 7th January. Reflecting on her many happy years, she revealed the secrets to a long life include keeping your mind active and always being aware of what's going on around you – follow the news and current affairs.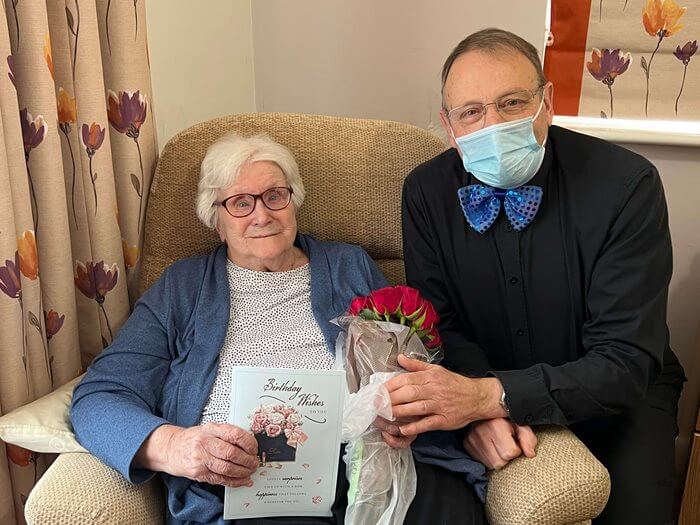 To celebrate the occasion, the care team decorated the home with balloons and organised for musician Frank Taylor, a regular visitor to the home whom Olive loves, to serenade her with her favourite tunes. Frank even performed a special rendition of Happy Birthday, which had everyone singing and clapping along. Making the day extra special, Olive enjoyed a visit from her daughter and son-in-law, as well as a video call with her family who live in Australia.
Speaking of the day, Olive said: "I had a lovely day celebrating and spending quality time with my family – I might be 102 now but I don't feel a day over 89!"
Linda Martinez, Home Manager at Field Lodge, added: "We could certainly learn a lot from Olive's secrets to a long life. It was wonderful to hear her reminiscing and sharing memories from throughout her life when marking such a momentous birthday.
"Here at Field Lodge, we work hard to support residents to lead fulfilling lives, and celebrating special occasions and birthdays plays a huge part in this. We love any excuse for to recognise the amazing people living here at Field Lodge and Olive's birthday was certainly cause for a party!
"Olive is a much-loved resident at the home, she's always looking out for others and making everyone laugh. We were honoured to raise a glass to her incredible life so far and we are proud to have her as part of our Field Lodge family."
Olive, who was born in West Ham, London, where she married her late husband, David, aged just 19. The pair met at a dance school when David, a Merchant Seaman on leave, asked her out on a whim – the rest was history!
In her younger days, Olive represented Essex in Netball and, still interested in keeping up with her love for sport, Olive regularly follows the tennis, football and snooker.
Also an avid traveller, Olive has enjoyed several trips to the USA with her children Penelope and Robert, as well as jetting over to Australia for her grandson's wedding where she smartly upgraded herself to business class – waving to the rest of her family as she enjoyed the premium seating! Keen to keep in close contact with her family, Olive has embraced technology – using her iPhone to Facetime and text her loved ones.
Field Lodge is a modern, purpose-built care home providing full-time residential, nursing, and dementia care, as well as short-term respite care. Designed to enable residents to live enjoyable and fulfilling lives, the care home has a choice of lounges and dining rooms, along with facilities such as an activity room, cinema and hair salon.
For more information about Field Lodge, contact Home Manager Linda Martinez on Linda.Martinez@careuk.com or call 01480 499840.
For general information, visit careuk.com/field-lodge.