Shelley Lacey, Senior Carer
Shelley's grandmother had been a resident at Armstrong House, and Shelley was inspired by the care team during her visits to her Nana. A trained hairdresser, but keen for a new career challenge, Shelley went to see Shirley, the Home Manager, to ask about joining the team. Although she had no formal care experience (although her family had initially cared for her Nana at home), she did a great interview and got the job. She began working on the nursing unit in late 2019.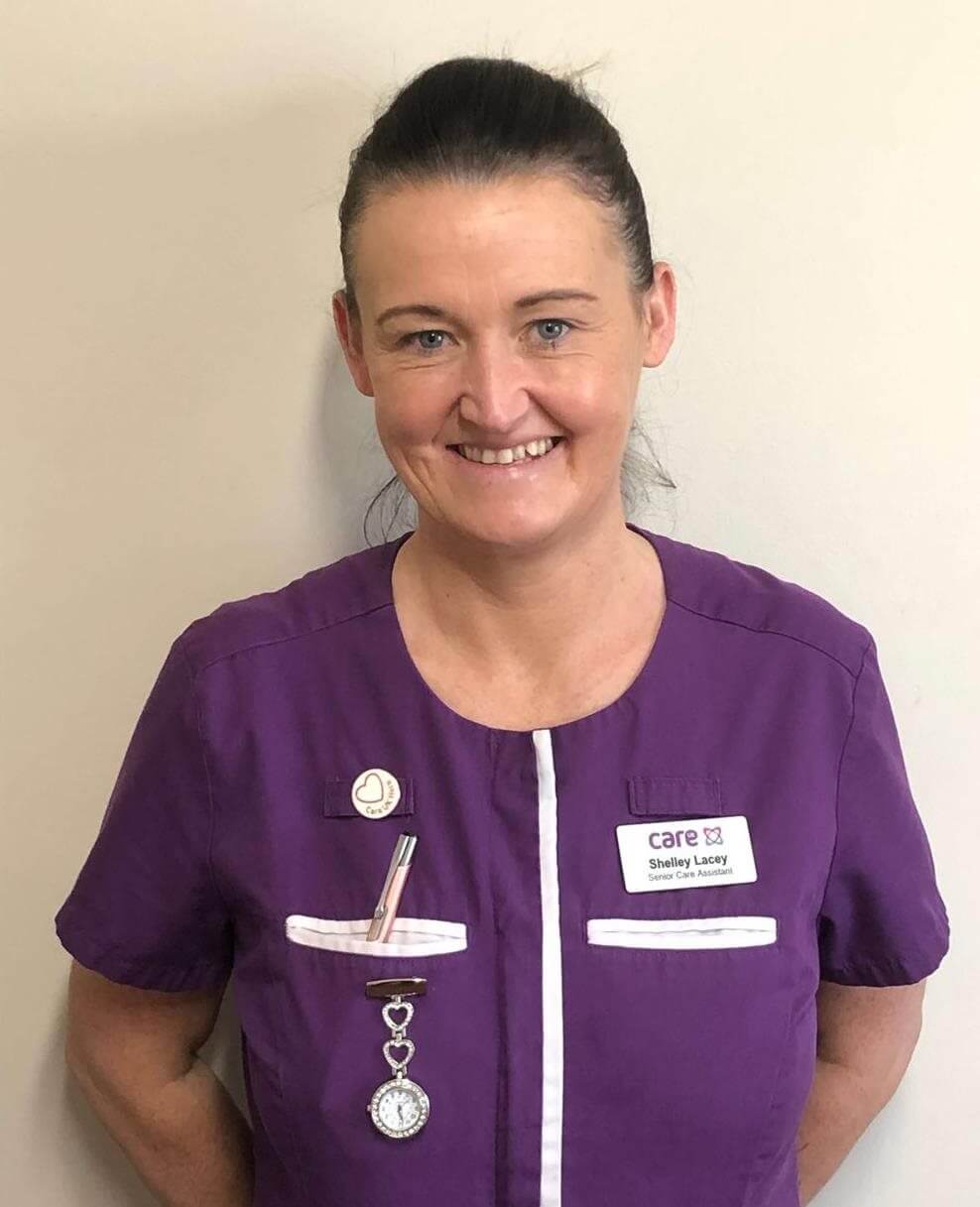 Her working day begins with helping residents to get up and dressed. She supports them with personal care before taking them to breakfast where she supports them to get the nutrition/hydration they need. She will do the same at lunchtime. During the day, Shelley works one-to-one with residents, doing any activities they like, or just chatting.
Shelley has huge empathy, imagining how frustrating it must be for someone with dementia or other health or mobility challenges to express themselves or mobilise. Shelley is calm, patient and innovative in her approaches with residents, treating everyone as an individual. Understanding each resident well, she knows the most effective distraction techniques if a person becomes anxious.
Shelley helps residents to form friendships to enhance their quality of life. She recently introduced a couple of ladies to each other, who are now inseparable. "It melts my heart when I see them go by," Shelley says.
Shelley supports a resident with Downs Syndrome, who moved to the home with only a limited ability to speak. She helped him to gain the confidence to develop his speech. He is flourishing thanks to the time and attention that Shelley has given him and his family are amazed at his progress. He has had hip problem and needs support to help him move around so, as part of his rehabilitation, Shelley and other carers get him to do his exercises by singing the hokey cokey to him!
At the start of the home's first Covid outbreak, although a 'newbie', Shelley took a professional, unfazed approach – covering extra shifts and working overtime. She was promoted to Senior Carer in September 2020.
Shelley is committed to her long-term professional development (she is just about to start on her level 3 in Health and Social Care), and potentially training to be a nurse.