A care home in Bramhall has been renamed by residents and team members following completion of its new management earlier this year.
Ladybrook Manor, on Dairyground Road, formerly known as Sunrise of Bramhall, is now managed by Care UK, after the provider announced they will be taking over the management of seven Sunrise Senior Living UK and 19 Gracewell Healthcare's homes in the UK.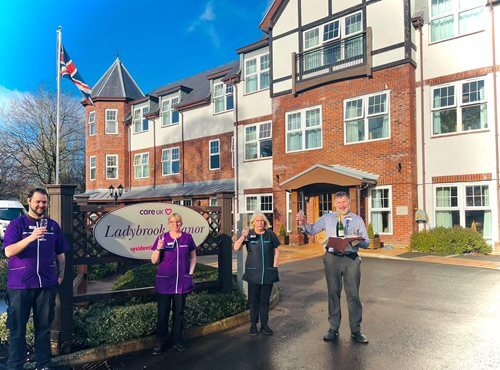 To help inspire the new name, the General Manager and team members, who will remain in place under Care UK, and residents at the home were invited to submit their suggestions based on Bramhall's history, places and famous locals.
Residents were encouraged to reminisce about their favourite memories spent in and around Bramhall, with team members also sharing their own experiences of the area to help decide on a name.
Ruth Baggs, General Manager at Ladybrook Manor, said: "We're thrilled to now be part of the Care UK family! All of our homes are named after things, people and places that are part of local history to reflect our desire to anchor ourselves in the local community, while giving future residents an opportunity to reminisce about the area.
"Our new name, Ladybrook Manor, is inspired by the local two local water courses which run through Bramhall. The Ladybrook and Micker Brook are both tributaries of the River Mersey, with many of the residents sharing fond childhood memories playing in these streams."
Care UK is a rapidly expanding provider offering high quality care for both funded and private residents, with more 'outstanding' rated homes than any other provider. As well as having a strong reputation for sector leading quality care, Care UK has invested heavily in developing a market-leading hospitality and lifestyle product reflecting similar focus areas to the Sunrise and Gracewell approach.
Designed to enable residents to live active and fulfilled lives, while also promoting independence, Ladybrook Manor, which remains open to potential residents, incorporates space for hobby and leisure activities. The building has been configured into a series of neighbourhoods to help facilitate the creation of close-knit communities and encourage social interaction among the residents.
For more information on Ladybrook Manor, please call Director of Community Relations, John Harrison on 0161532 5974, or email John.Harrison@careuk.com.
For more general information, please go to careuk.com/ladybrook-manor.
For general information about Care UK, please visit: careuk.com.