A care home in Salisbury has been taking part in an unusual type of exercise to kick start the new year.
Residents at Gracewell of Salisbury, now part the Care UK family, have been enjoying line dancing sessions as part of Care UK's 'Let's Get Physical' initiative – which aims to encourage residents to get up and be active by trying something new.
The line dancing class was a hit with residents, with everyone was dressed in cowboy hats and checked skirts, while listening to traditional country music.
The 'Let's Get Physical' initiative sees Care UK homes across the country encourage residents to move more by trying something new and exciting – whether that be a seated ballet class or even yoga.
Carol Brewster, Home Admissions Advisor at Gracewell of Salisbury, said: "We had a fantastic time taking part in our special line dancing sessions here at Gracewell of Salisbury.
"We are constantly looking for new and exciting ways to encourage residents to lead active and fulfilling lives, and with many residents enjoying dance, we thought line dancing seemed like a perfect activity.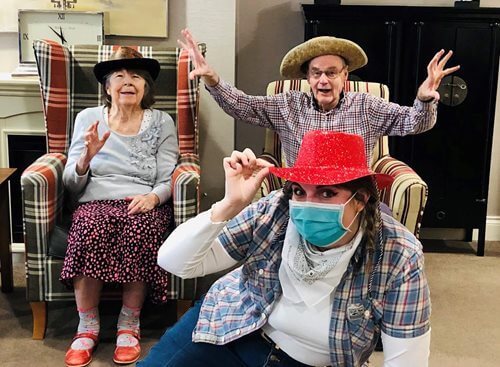 "Line dancing is a great form of exercise for older people, helping to improve strength and muscle function, increase balance and flexibility, as well as supporting cardiovascular and heart health.
"Judging by the smiles on everyone's faces, the dancing was a hit – we are looking forward continuing the sessions throughout 2022. Who knows, we may have the next strictly come dancing winner in our midst!"
The residents also took part in Hawaiian themed yoga. The yoga was perfect for all residents to enjoy with its slow and relaxing nature.
As part of the initiative, Care UK has also teamed up with popular 80s fitness star, the Green Goddess, to create a series of bespoke exercise videos for its homes to enjoy. Residents and team members across the country are encouraged to don their best Lycra and neon accessories and take part in the fun new workouts.
Diana Moran, the Green Goddess, said: "I am delighted to support Care UK to encourage residents across the country to get active by trying something new.
"Regardless of age, keeping active is what keeps us young. Whether it's walking a little further on your everyday stroll, or exercising a little longer, every day brings a new possibility. Even for those less mobile, chair-based exercises can be just as beneficial. Nothing should get in the way of you being the best version of you!"
Designed to enable residents to live active and fulfilled lives, while also promoting independence, Gracewell of Salisbury, which remains open to potential residents, incorporates space for hobby and leisure activities. The home provides full-time residential care, nursing care, dementia care and respite care. The building was designed around a beautiful Georgian house and the layout is configured into a series of individual suites, each having a dedicated lounge/dining room to help facilitate the creation of close-knit communities.
To find out more about Gracewell of Salisbury, please call Carol Brewster, Home Admissions Advisor on 01722 569782 or email salisbury.haa@gracewell.co.uk.
To find out more about Care UK's partnership with the Green Goddess, and for more top tips on how you and your loved ones can get involved at home, visit careuk.com/lets-get-physical.