A care home in Stratford-upon-Avon made a resident's wish to be reunited with her cat paw-sible.
When she was admitted to hospital in November, lifelong cat owner Valerie Johnston, aged 72, now a resident at Care UK's Ambleside, on Evesham Road, sadly had to surrender her cat Alfie to a local rescue and hadn't seen him since.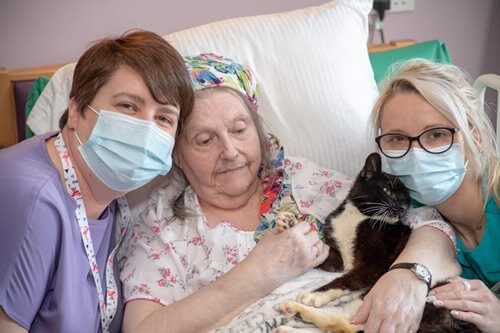 Upon hearing her story, the team at Ambleside, Valerie's home since January, decided to track down Alfie and found that he was still under the care of Avon Cat Rescue – so they got busy organising the reunion to make Valerie's wish come true.
As part of the wishing tree initiative, the team at Ambleside encourage residents to submit wishes, no matter how big or small, whether they're related to something they've never been able to do, or something they'd like to do again.
On the day, the home invited Avon Cat Rescue to bring Alfie to the home so he could be reunited with his owner for an afternoon and have arranged for regular visits to take place in the near future.
Valerie said: "I can't believe the guys at Ambleside have made my dream come true. I never thought I would see Alfie again – I can't thank them enough for reuniting me with my friend. I am looking forward to further visits with Alfie."
Julia Joy, Home Manager at Ambleside, said: "When we heard Valerie's story, it was clear just how much Alfie meant to her, so we knew we had to reunite them.
"She always speaks fondly of the years spent looking after her cats, including Alfie. It was a very emotional moment for her when she saw her cat strut into the care home after many months away from each other – the smile on her face said it all.
"We're delighted we were able to make this happen for her, and we're looking forward to seeing a lot more of Alfie in the coming months!"
Ambleside is a state-of-the-art care home which provides full-time residential, dementia and nursing care, as well as short-term respite care. Designed to enable its residents to live enjoyable and fulfilling lives, the care home has its very own cinema, café and hair salon, and there is plenty of space, both indoors and out, for relaxation and recreation.
For more information about Ambleside, call Home Manager, Julia Joy on 01789 868 298, or email, julia.joy@careuk.com.
For more general information, please visit careuk.com/ambleside.