It was time to rhyme at a Stratford-upon-Avon care home.
To mark World Poetry Day, Care UK's Ambleside, on Evesham Road, celebrated the works of published poet and resident Ken Harvey, aged 91.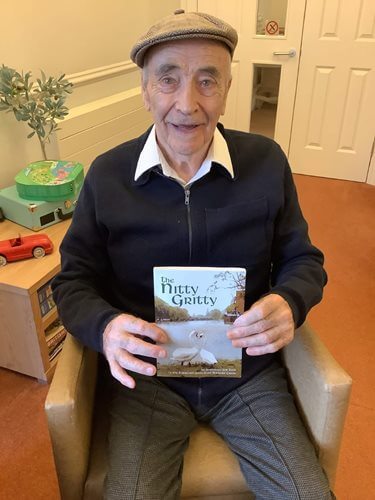 The former Managing Director of a local construction business, Bryants Building Company, Ken rediscovered his love for poetry after he retired. His published book, titled 'The Nitty Gritty', contains five poems he wrote and was published in 2000 by the Stratford-upon-Avon writer's circle.
On the day, his poems were read by fellow resident Martin Kenny, who previously wrote articles for the Stratford Observer and was familiar with Ken's work, and Home Manager Julia Joy.
Ken said: "I always loved poetry and writing poems, but it became a hobby I started to love even more when I retired."
Julia said: "Many of us were already familiar with Ken's poems, so it was a pleasure to rediscover them together to mark World Poetry Day.
"For older people, especially those living with dementia, somebody reading aloud – whether it be a poem or short story – can have many therapeutic benefits due to its calming nature. Coupled with the fact some of Ken's poems evoke familiar places, this was the perfect way to reminisce while supporting residents to continue enjoying their passions and hobbies.
"We'd like to say a big thank you to Ken for sharing his works with us, and to Martin for bringing them to life – we're already looking forward to our next poetry session."
Ambleside is a state-of-the-art care home which provides full-time residential, dementia and nursing care, as well as short-term respite care. Designed to enable its residents to live enjoyable and fulfilling lives, the care home has its very own cinema, café and hair salon, and there is plenty of space, both indoors and out, for relaxation and recreation.
For more information about Ambleside, call Home Manager, Julia Joy on 01789 868 298, or email, julia.joy@careuk.com.
For more general information, please visit careuk.com/ambleside.