Residents at a care home in Cringleford have been reading classic bedtime stories for local children.
Those living at Cavell Court, on Dragonfly Lane, decided to launch the initiative to ensure children who may not have a parent or grandparent to read with, do not miss out on a bedtime story.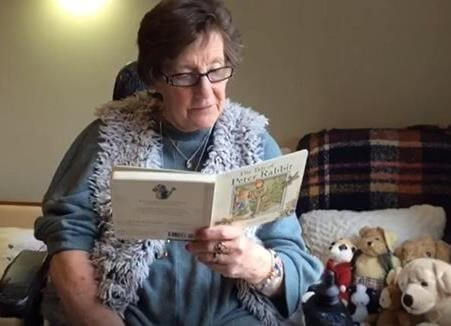 Residents Peta, Annabelle and Beryl chose to read The Tale of Peter Rabbit as their first book, posting the video to the home's Facebook page.
77-year-old Peta said: "I remember reading the book to my daughter when she was young. If I tried to skip part of the story when I thought she was asleep, she would always tell me I'd missed a bit! I wanted to get involved with this to do something nice for the children. I really enjoyed it."
Annabelle loved reading as a child, so much so her father had to take the books away from her so that she would go to sleep. Beryl, who is 94, also loved the book choice as her son was called Peter, who she also used to read to.
Karen Curle, Home Manager at Cavell Court, added: "Prior to the pandemic, we regularly welcomed youngsters into the home to spend time with residents.
"Intergenerational relationships can be incredibly beneficial to both younger and older people alike and can provide residents with a sense of responsibility and purpose. Although we've been unable to welcome children into the home as we would have liked to over the past two years, we're always looking for new ways to connect and support the younger members of our community.
"Reflecting on the values of World Book Day, and memories of reading to their own children and grandchildren, reading the stories prompted us to provide an alternative experience to children who may not be lucky enough to have a grandparent to read to them."
You can watch Cavell Court's bedtime stories on the home's Facebook page.
Cavell Court is a modern care home which provides full-time residential and dementia care, as well as short-term respite care. Designed to enable residents to live enjoyable and fulfilling lives, the care home has its very own cinema and hairdressers, and there is plenty of space both indoors and out for relaxation and recreation.
For further information on Cavell Court, please call Customer Relations Manager, Samantha Woods on 01603 856 835, email samantha.woods@careuk.com, or visit: careuk.com/cavell-court.