A care home in Salisbury has been renamed by residents and team members following completion of its new management earlier this year – and received a visit from a special guest to mark the occasion.
Salisbury Manor, on Shapland Close, formerly known as Gracewell of Salisbury, is now managed by Care UK, after the provider announced they will be taking over the management of seven Sunrise Senior Living UK and 19 Gracewell Healthcare's homes in the UK.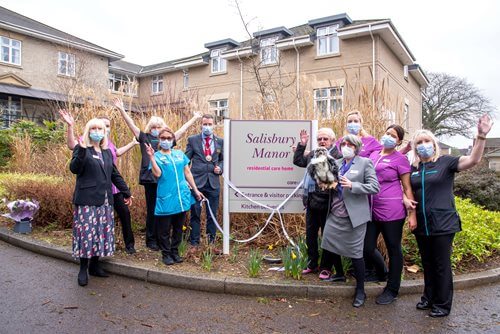 To celebrate the milestone, the Deputy Mayor of Salisbury, Councillor Tom Corbin, was invited to Salisbury Manor to cut the ribbon and officially announce the new home name.
The Deputy Mayor enjoyed meeting team members and chatting with one of the residents, Barbara, who has lived at the home for eight years. He was also introduced to 'Terry the Peregrine Falcon', the Salisbury Manor mascot.
Carol Brewster, Home Admissions Advisor at Salisbury Manor, said: "We're thrilled to now be part of the Care UK family and with our new name, Salisbury Manor.
"It was a pleasure to invite Councillor Tom Corbin to celebrate the home's new name and we enjoyed talking about the different aspects of care we can offer to the residents of Salisbury.
"We are looking forward to what the future may hold for Salisbury Manor with the new management team and we are continuing to strive to ensure the residents lead fulfilling lives."
Care UK is a rapidly expanding provider offering high quality care for both funded and private residents, with more 'outstanding' rated homes than any other provider. As well as having a strong reputation for sector leading quality care, Care UK has invested heavily in developing a market-leading hospitality and lifestyle product reflecting similar focus areas to the Sunrise and Gracewell approach.
Designed to enable residents to live active and fulfilled lives, while also promoting independence, Salisbury Manor, which remains open to potential residents, incorporates space for hobby and leisure activities. The home provides full-time residential care, nursing care, dementia care and respite care. The the layout of the building is configured into a series of individual suites, each having a dedicated lounge/dining room to help facilitate the creation of close-knit communities.
To find out more about Salisbury Manor, please call Carol Brewster, Home Admissions Advisor on 01722 569782 or email salisbury.haa@gracewell.co.uk.
For more general information, visit: careuk.com/salisbury-manor.