Spring has certainly sprung for residents at a local care home after they welcomed five fluffy visitors.
Residents at Care UK's Kentford Manor, on Jeddah Way, have been having a cracking Easter after welcoming five ducklings for residents to look after.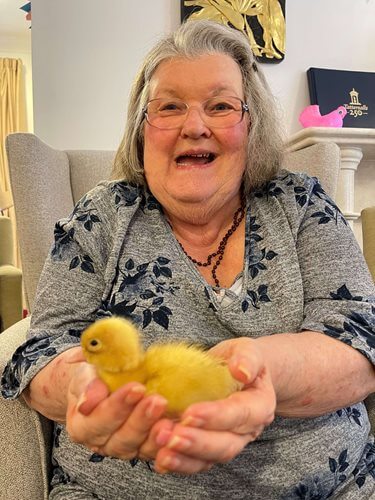 The eggs, which came from Incredible Eggs, an ethical provider of high-welfare hatching kits, were a hit with residents as soon as they arrived at the care home, with everyone keen to ensure they didn't miss their arrival.
On the day the eggs hatched, there was much excitement from residents to meet the ducklings, and everyone was keen to witness their first ever swim.
Lijo Varghese, General Manager at Kentford Manor, said: "Everyone had a spring in their step after the eggs hatched here at Kentford Manor. Having ducklings in the care home has created a lot of excitement among the residents over the Easter period.
"Looking after animals and being in their company has proven therapeutic benefits for older people, particularly for those living with dementia, as it can reduce anxiety, release calming endorphins, and decrease feelings of loneliness.
"You could see from the residents' reactions just how engaged they were when given the opportunity to look after the eggs and get close to such lovely, fluffy ducklings once they hatched. We are now looking forward to watching them grow and develop at the home."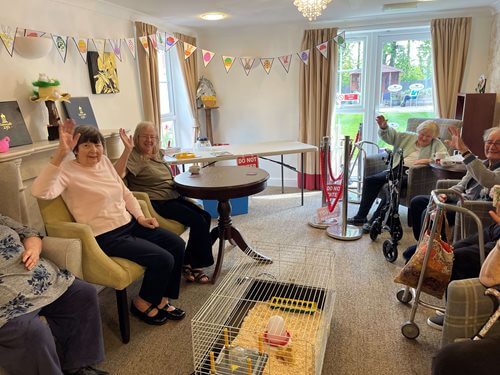 Designed to enable residents to live active and fulfilled lives, while also promoting independence, Kentford Manor, incorporates space for hobby and leisure activities. The building has been configured to help facilitate the creation of close-knit communities and encourage social interaction among the residents.
To find out more about Kentford Manor, please call Christine Ellesley, Home Admissions Advisor on 01638 779594, email Christine.Ellesley@careuk.com or visit careuk.com/kentford-manor.