Residents at a care home in Leatherhead marked the Sikh New Year, Vaisakhi, with an afternoon celebrating Indian culture.
Residents at Care UK's Liberham Lodge, on Rectory Lane, celebrated the Sikh New Year, Vaisakhi, with an Indian themed lunch and a special performance from team members.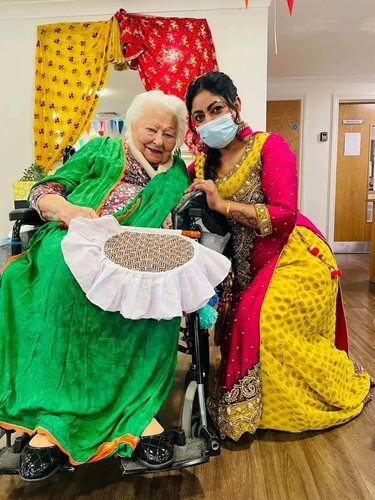 Vaisakhi, which takes place annually on the 13th or 14th April, celebrates the start of the Sikh New Year. The festival dates back to 1699, the year when Sikhism was born as a collective faith.
As part of the celebrations, Activity Coordinator, Mandip, Care Assistant, Manisha, and Home Admissions Advisor, Vicky, dressed in traditional Punjabi clothes to perform a short Indian inspired dance routine for the residents to enjoy.
Keen to dress for the occasion, residents dressed in traditional Punjabi scarves and learned more about the history of the festival while enjoying traditional Indian cuisine prepared by the home's Head Chef, which included a residents' favourite – samosas.
Commenting on the event, resident Margaret said: "The afternoon was most enjoyable – very colourful with some lovely dancing, which most of us had never seen before. We all learned quite a lot from the dancing and thoroughly loved the atmosphere of the afternoon."
Resident Sheila added: "It was so nice to be with everyone and experience something a bit different."
Jagpal Singh, General Manager at Liberham Lodge, said: "The team had a great time dusting off their dancing shoes to perform for the residents to celebrate Vaisakhi.
"At Liberham Lodge, we are committed to ensuring the home is a welcoming and supportive place for everyone, where different cultures and interests are regularly celebrated through memorable activities which promote positive wellbeing.
"Everyone had a great time celebrating Vaisakhi and learning more about when the festival began. We are already looking forward to next year's celebrations!"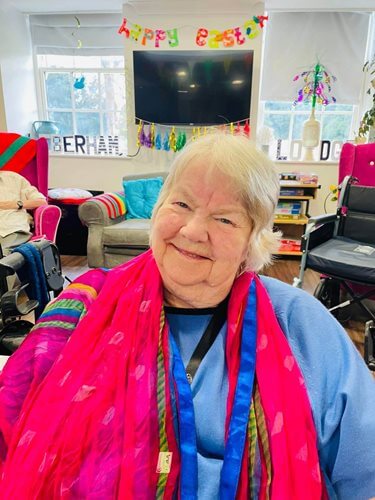 Designed to enable residents to live active and fulfilled lives, while also promoting independence, Liberham Lodge, incorporates space for hobby and leisure activities. The layout of the building has been configured to help facilitate the creation of close-knit communities and encourage social interaction among the residents.
To find out more about Liberham Lodge, please email Vicky Radmore, Home Admissions Advisor on Victoria.Radmore@careuk.com, call 01372 887982 or visit careuk.com/liberham-lodge.