Residents at a care home in Church Crookham have been enjoying a Platinum Jubilee celebration fit for a queen.
On 2nd of June, Care UK's Bourley Grange, on Bourley Road, began their celebrations to mark the Queen's official 70-year milestone by planting mulberry and pear trees as part of the Queen's Canopy initiative.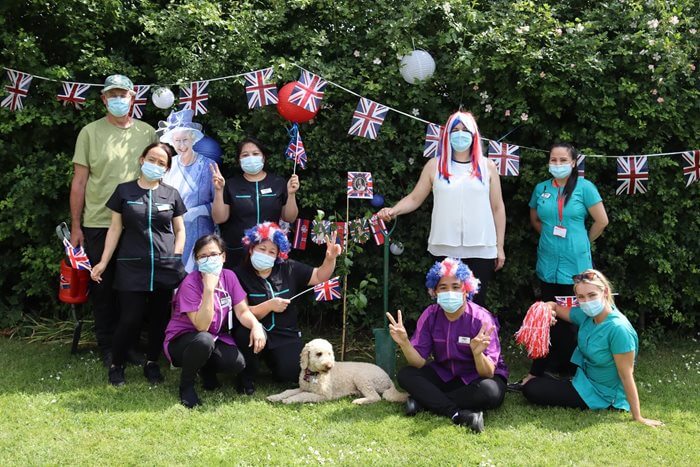 On Friday, residents enjoyed the home's 'Big Jubilee Garden Lunch', after which residents judged the 'Great Bourley Bake Off' competition, where entries were welcomed from the community as well as families and friends.
Live swing and jazz music was provided by local band, The Swing Rhythm Trios, and a regal buffet was later provided by the home's Head Chef, who has catered for the Queen and many other dignitaries in his previous role as Sous Chef at the Dorchester Hotel in Park Lane.
Celebrations were extended over the weekend, with residents getting into the spirit of the Epsom Derby. Residents dressed to impress, with ladies in their best hats, and everyone cheered on their chosen horses.
Ending the bank holiday on a high, residents were treated to an afternoon tea from the chef and his team, while enjoying live entertainment from local singer, Daniel Brewerton, who took to the stage to sing the resident's favourite requested songs.
Residents have also spent time reminiscing about their own memories of jubilee celebrations gone by, with recollections forming part of the home's Jubilee scrapbook which now includes photos from the week's celebrations.
Racquel Merdegia, General Manager at Bourley Grange, added: "We had a wonderful time celebrating the Queen's Platinum Jubilee here at Bourley Grange.
"For older people, and those living with dementia, reminiscing about key milestones, such as previous jubilee celebrations, can help bring back happy memories, as well as prompting conversation and connection with those around them. These positive feelings gained from revisiting fond memories can help decrease stress, reduce agitation, and improve mood.
"We have many royalists here at Bourley Grange who were keen to mark the Queen's incredible reign and celebrate in style. Everyone had a fantastic time, and we're already planning our next royal knees up!"
To find out more about Care UK's Platinum Jubilee celebrations, please visit: careuk.com/platinumjubilee.
Designed to enable residents to live active and fulfilled lives, while also promoting independence, Bourley Grange, which remains open to potential residents, incorporates space for hobby and leisure activities. The home provides full-time residential, nursing and memory care in addition to respite care. The layout of the building is configured into a series of individual suites, each having a dedicated lounge/dining room to help facilitate the creation of close-knit communities.
To find out more about Bourley Grange please call Home Admissions Advisor, Natasha Peters on 01252 756438 email natasha.peters@careuk.com, or visit careuk.com/bourley-grange.