A care home in East Kilbride has served up a wish come true for one of its residents.
93-year-old Nora Sweeney was delighted when the team at Care UK's Cathkin House, where she lives, organised for her to return to her roots as a silver service waitress.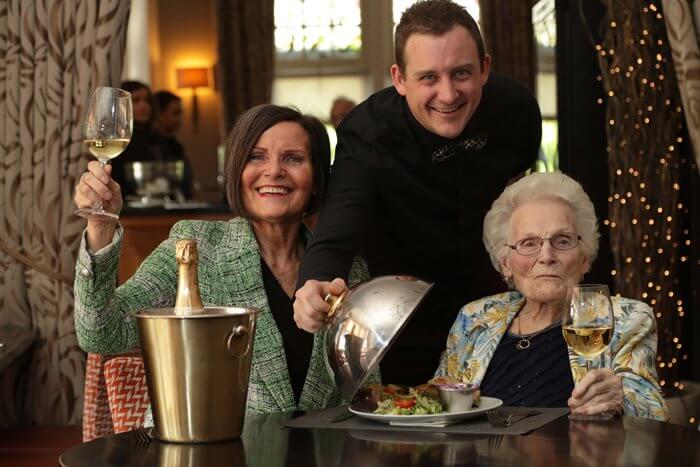 In her younger years, Nora very proudly worked as part of the front of house team at the prestigious Sherbrooke Castle Hotel in Glasgow, where she spent many happy years of her life. Knowing how many fond memories Nora had of her time at the hotel, the team were keen to organise a very special treat.
Nora and her two daughters, Margaret and B.B, were surprised with lunch at the hotel, complete with silver service, before Nora was reunited with owners, George and Therese McCulloch. George, who remembered Nora from her waitressing days, took Nora on a tour of the hotel to reminisce and show her how much has changed over the years.
Nora said: "I really enjoyed being back at the hotel after so many years – I thought I was going back to discuss my return to work! I remembered George very well, as he has visited me before. There is so much of the hotel that is the same, especially the front check in desk."
As well as the visit, Nora also teamed up with fellow resident and former chef, 68-year-old Giuseppe Musardo, to treat their friends at Cathkin House to a meal to remember. Giuseppe, who used to own his restaurant in Abroth, Amora, worked with his sous-chef for the evening, Cathkin House's head chef, to create a three-course meal, which was served by Nora and the lifestyle team.
Nora added: "I loved hosting and serving my friends at Cathkin House, but I have to say they weren't very generous tippers!"
The activities formed part of the home's 'Wishing Tree' Initiative, which encourages residents to put wishes forward, allowing them to reconnect with a past hobby or try something completely new – from flying on a plane to enjoying a fish and chip supper, no wish is too big or small.
Nisha Sujeewon, Home Manager at Cathkin House, commented: "We had a wonderful time creating the Cathkin House restaurant, and surprising Nora with a trip to Sherbrooke Castle Hotel.
"Here at Cathkin House, we strive to support residents to lead fulfilling lives in whatever capacity that may be. Whether it's facilitating a trip to the garden centre, turning our home into a restaurant, or making wishes come true. Everyone at the home knows how many fond memories Nora has of her days as a silver service waitress, and how much she loved working at the Sherbrooke Castle Hotel, which is why we were delighted to be able to organise her to revisit.
"Both the visit, and Giuseppe and Nora's kitchen takeover were days to remember and bought smiles to everyone's faces. The pair are already planning their next pop-up restaurant event – hopefully with a few more tips this time!"
Cathkin House provides dementia, nursing and nursing dementia care, and has been designed to enable its residents to live active and fulfilled lives, while also promoting independence. The care home incorporates space for hobby and leisure activities and has plenty of space indoor, and out, to relax.
To find out more about the home, contact Home Manager at Cathkin House, Nisha Sujeewon, on nisha.sujeewon@careuk.com or call 01357 578396.
For more general information, visit careuk.com/cathkin-house.