Care home residents were part of the mane event when they visited a local pony sanctuary.
Life-long horse lover Diana Hughes, a 75 year-old resident at Care UK's Deewater Grange on Chester Road, was treated to an afternoon at a local sanctuary after telling their care team of their wish to spend time with a horse once again.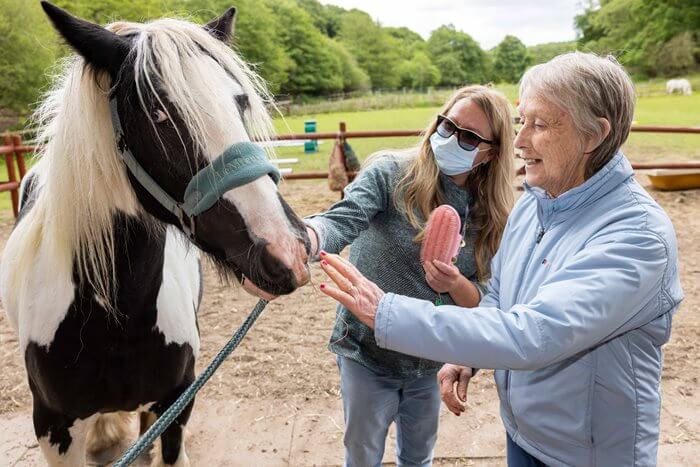 Residents Jean Charlton, 82, and Hildegard Rollason, 91, also joined Diana for the reminiscent trip – horses and ponies are a firm favourite for the ladies, who couldn't pass on the special opportunity to meeting one.
The trip was part of the home's 'Wishing Tree' Initiative, which encourages residents to put wishes forward, allowing them to reconnect with a past hobby or try something completely new – from flying on a plane to enjoying a fish and chip supper, no wish is too big or small.
Horse-owner and enthusiast Diana used to own her very own horse and spent time working with them over the years. When the team learned about her wish to connect with a horse once more, they got to work and reached out to Spirit of the Herd Sanctuary, a charity who helped them make her wish to visit come true.
On the day, Diana was delighted when one pony in particular, Rupert, approached her and she was able to spend an afternoon brushing his mane and showering him with plenty of fuss and attention.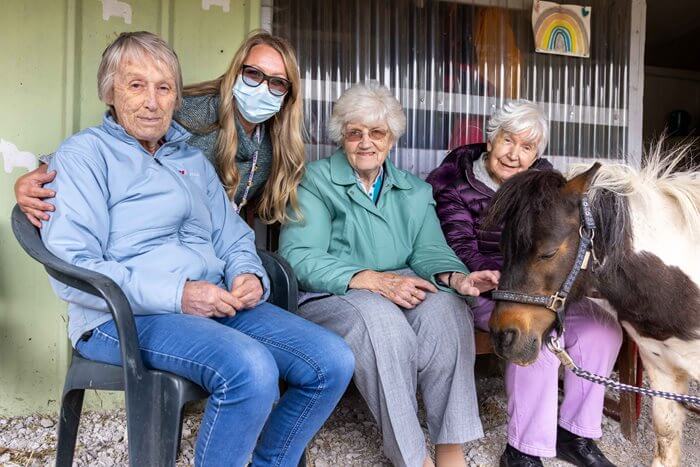 Diana has always had a soft spot for horses, and enjoyed working at a racing yard in North Wales, where she groomed and tended to the horses closely. Diana's passion for horses was sparked when she got her first horse, Paddy, as a teenager – which is why she was keen to be able to see the beautiful animals up close once again.
The ponies are cared for by Spirit of the Herd Sanctuary, and are friendly, relaxed and used to human contact.
Diana said: "I loved being back with the smell of horses and the countryside. The white pony was beautiful – and definitely my favourite!"
Sally Cooper, Home Manager at Deewater Grange, said: "We don't accept that life at a care home has to be a particular way – we ensure there are no limitations to activities residents pursue and help all residents to lead independent, fulfilling lives, however they choose. Animal therapy has proven to be incredibly beneficial for older people, as it can offer a calming effect, prompt conversations, and put a smile on everyone's faces.
"We were thrilled to be able to make such a lovely wish come true for Diana, as she has always talked about horses with a passion. It was wonderful to see her face light up when we arrived.
"It was a fantastic day that we will all remember for a long time."
Deewater Grange is a state-of-the-art care home which provides full-time residential, dementia and nursing care. The home has been designed to enable residents to live active and fulfilled lives, while also promoting independence, and incorporates space for hobby and leisure activities, including its own café, bar, cinema as well as a hair and beauty salon. The layout of the building is configured into a series of individual suites, each having a dedicated lounge/dining room to help facilitate the creation of close-knit communities.
To find out more about the care home, contact Home Manager at Deewater Grange, Sally Cooper, on sally.cooper@careuk.com or call 01244 259480.
For more general information, visit careuk.com/deewater-grange.