Residents at a care home in Halstead have been enjoying a Platinum Jubilee celebration fit for a queen.
Care UK's Colne View, on Dame Mary Walk, has marked the Queen's official 70-year milestone by hosting its very own Big Jubilee Lunch – a nationwide initiative that brings local people together to celebrate community spirit.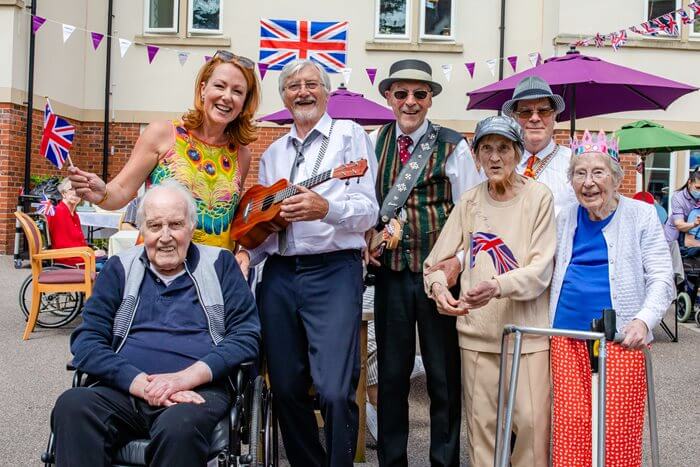 Decking out the home with Union Jack flags and bunting, the team welcomed relatives and residents to a garden party where they enjoyed music and dancing and a very royal quiz.
To commemorate the special day, 77-year-old Mary, a former volunteer for Halstead in Bloom, planted a Cherry Tree, which was completed with a jubilee plaque.
Residents have also spent time reminiscing about their own memories of royalty, including 90-year-old Christine, who spent some of her childhood in the presence of the then Princess Elizabeth and Princess Margaret in the late 1930s. Christine would often attend children's tea parties in the gardens of the Bowes-Lyons in Hertfordshire, and has fond memories of Elizabeth and Margaret enjoying being around children of the same age.
Monica Boldeata, Home Manager at Colne View, said: "We loved welcoming relatives into the home to enjoy the royal treatment after so long apart!
"The Platinum Jubilee offers the perfect opportunity to get together with loved ones and celebrate the last 70 years of both the Queen, and the wonderful residents, incredible reigns. Many residents have fond memories of celebrating the silver, golden and diamond jubilees with their families and communities, and we were keen to ensure the Platinum Jubilee was no exception!
"It was amazing to have the full Colne View family back together again after so long. Judging by the smiles on everyone's faces, it was a huge success, and we are already planning our next get together!"
To find out more about Care UK's Platinum Jubilee celebrations, please visit: careuk.com/platinumjubilee.
Colne View is a care home designed to deliver the very best standards of care, and to enable residents to live active and fulfilled lives. The home offers a range of services including residential care, specialist dementia care and respite care.
To find out more about the home, contact Senior Customer Relations Manager at Colne View, Kim Richardson, on kim.richardson@careuk.com, call 01787 389474, or visit careuk.com/colne-view.