Residents at two care homes in Sutton Coldfield have been enjoying a Platinum Jubilee celebration fit for a queen.
Care UK's Bishops Manor, on Jockey Road, and Mercia Grange, on Lichfield Road, have marked the Queen's official 70-year milestone by holding jubilee-themed events.
Celebrating in true British style, team members at Bishops Manor and Mercia Grange went all out to royally decorate the gardens with Union Jack flags, bunting and balloons.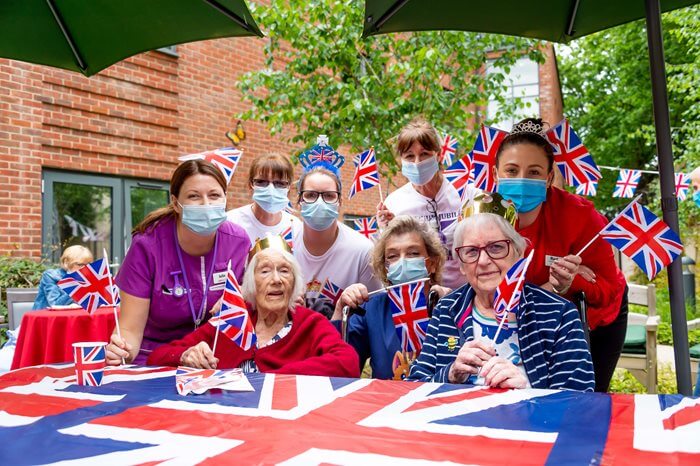 Residents at Bishops Manor watched the 'Trooping the Colour' on television in the morning, before enjoying tea and cakes, and discussing their favourite moments from the parade. In honour of the special milestone, the team hosted a ceremony in the afternoon and planted a cherry tree as part of the Queen's Green Canopy initiative, unveiling a special plaque to mark the occasion. To top off the afternoon, residents tapped their feet along to entertainer Lynn Sweet, as she serenaded everyone with great British hits from yesteryear.
Meanwhile, residents at Mercia Grange held a street style party in the home's garden, with the opportunity to take photos with a life size cut out of the Queen. Residents enjoyed an afternoon filled with tasty delights, along with a visit from the ice cream van to bring sweet treats. Guests also tapped their feet to live music brought by Olivia Pratt, as she performed nostalgic songs from years gone by to top off the day.
Sarah Diamond, General Manager at Bishops Manor, said: "We had a wonderful time celebrating the Queen's Platinum Jubilee here at Bishops Manor.
"For older people, and those living with dementia, reminiscing about key milestones, such as previous jubilee celebrations, can help bring back happy memories, as well as prompting conversation and connection with those around them. These positive feelings gained from revisiting fond memories can help decrease stress, reduce agitation, and improve mood."
Amy Barton, Home Manager at Mercia Grange, added: "We have many royalists here at Mercia Grange who were keen to mark the Queen's incredible reign and celebrate in style – it was wonderful to mark the occasion by planting the tree. Everyone had a fantastic time, and we're already planning our next royal knees up!"
To find out more about Care UK's Platinum Jubilee celebrations, please visit: careuk.com/platinumjubilee.
Mercia Grange and Bishops Manor have been designed to enable residents to live active and fulfilled lives, while also promoting independence, and incorporating space for hobby and leisure activities. The care homes been configured to help facilitate the creation of close-knit communities and encourage social interaction among the residents.
To find out more, contact Customer Relations Manager at Mercia Grange, Rachel Mackay, on rachel.mackay@careuk.com or contact Home Admissions Advisor at Bishops Manor, Jody Sedgwick, on jody.sedgwick@careuk.com.