Rosemary Lester who lives at Care UK's Sherwood Grange care home in Kingston Vale enjoyed her five minutes of fame this morning when she appeared on the popular ITV show Good Morning Britain.
The invitation came about after Rosemary was photographed taking part in a nude life drawing class set up for residents living at Sherwood Grange. Newspapers both local and national were delighted with the story and the photographs of the session so Rosemary and her fellow artists have appeared in papers ranging from The Sun to the Telegraph the Mail to the Northern Echo.
Soon ITV picked up on the story and invited Care UK to put forward someone to be interviewed by presenters Ben Shephard and Ranvir Singh. Rosemary agreed to take part and answered questions about what she thought of the session and whether she's done much drawing before then. Despite the fact several million people were watching her live, Rosemary calmly answered all their questions saying, "We have all these opportunities open to one at Sherwood Grange. You don't have to do it, but it's there if you would like to take part."
Kristina Jacunskiene, Home Manager at Sherwood Grange, said: "We certainly 'bared' all at Sherwood Grange with our memorable nude art class.
"Most people expect life in a care home to be a certain way – but here at Sherwood Grange we're keen to ensure that there are no limitations, and every day can be different and fun. Life in our care home is all about helping people to enjoy more independent and fulfilling lives – and the art class meant doing something out of the ordinary and creating a memorable experience. Based on the response we had from the residents and the fabulous drawings they created, we will certainly be welcoming more models in the future!"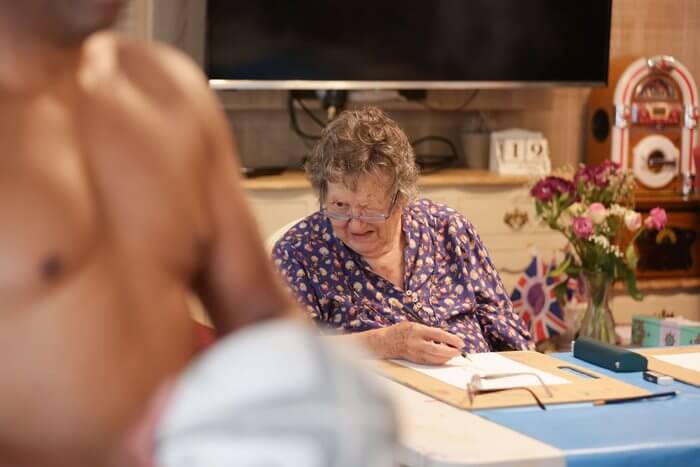 Rosemary's interview was part of a feature where ITV ran their own drawing class with a nude model being sketched by artists with varying levels of experience of drawing. Experts on the show then talked about the therapeutic benefits, not just of drawing, also of having the nude body to prompt reminiscences about past experiences.
You can watch the full segment, including Rosemary's interview, 1 hour and 57 minutes into the recording here.
Care UK's home teams run a wide range of activities for residents ranging from trips out, visits from unusual animals like snakes as well as fulfilling wishes that have seen residents go on a skydive, visit their old workplaces and enjoy dance classes.