Two local care homes have been celebrating after winning big at Bury in Bloom.
Care UK's Glastonbury Court, on Glastonbury Road, was thrilled to be named overall champion of the Bury St Edmunds flower competition, securing the win for a second year running, while Care UK's Davers Court took home the bronze award for its incredible floral creations.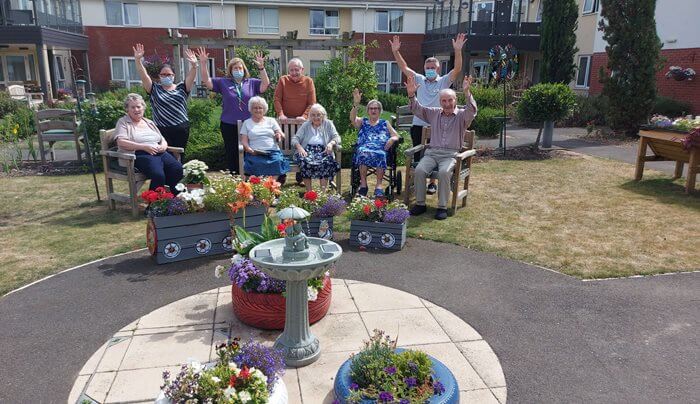 The gardens are a result of the hard work of the lifestyle and maintenance teams at both homes, who, with the help of their resident gardening clubs, spend time choosing and planting flowers, maintaining the areas, and coming up with creative arrangements ahead of the competition, which takes place each year.
On Saturday 13th August, from 10am – 12pm, local people are invited to come along to Davers Court to tour the gardens and see the impressive creations, which include several jubilee themed displays and the incredible 'HMS Davers Court' boat. For those wanting to see Glastonbury Court's award-winning creations, there will also be an open gardens event on Thursday 18th August, from 2pm-4pm.
Sally Shadbolt, Home Manager at Davers Court, said: "We were thrilled to receive the bronze award at this year's Bury in Bloom.
"The team works tremendously hard to ensure our outdoor spaces continue to look impressive, and that the garden is a calming place for residents to enjoy. Residents look forward to Bury in Bloom each year, especially when the competition heats up between us and our friends over at Glastonbury Court, who we spend a lot of time with!
"We're looking forward to welcoming family, friends, and local people along to see our creations for themselves, enjoy our outdoor space, and discover what life really is like at Davers Court. We're looking forward to seeing everyone soon."
Designed to enable residents to live enjoyable and fulfilling lives, Glastonbury Court and Davers Court both have their very own cinemas, bars and hairdressers, and there is plenty of space both indoors and out for relaxation and recreation.
To book your place at the Davers Court or Glastonbury Court open gardens event, please contact Customer Relations Manager, Chantal Sencier, on 01284 844640, or email Chantal.sencier@careuk.com.
For general information please visit, careuk.com/davers-court or careuk.com/glastonbury-court.