A local couple has shared the secret to a long marriage as they toasted their blue sapphire anniversary.
Margaret and Graham Merlane, a resident at Care UK's The Terrace, on Maison-Dieu, celebrated 65 years of marriage in style as they reminisced on six happy decades together.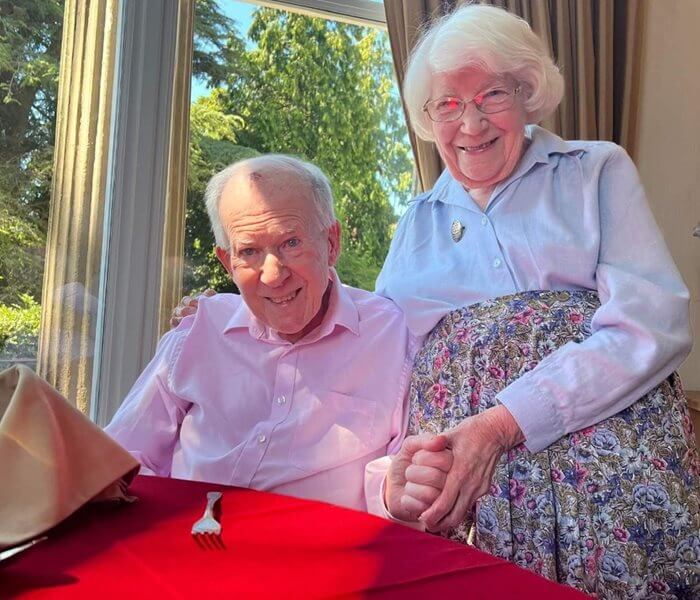 To mark the special milestone, the team at The Terrace invited Margaret to join Graham for a special lunch to celebrate their special anniversary, which the couple enjoyed while admiring the stunning views of Richmond and the hills.
Revealing the secret to a long marriage, former mathematics teacher Graham advised young couples to 'have a good sense of humour and enjoy each other's company'.
The pair met at Mundella Grammar School's end of year social and married shortly after on 10th August 1957 in Nottingham. They moved to Berkshire after Graham became Head of Mathematics at Reading Grammar School, then to Wirral when he was offered a Deputy Head teaching position, and later Kidderminster. They finally settled in Richmond in 1984, where Graham became a School Inspector for HM Inspectorate while Margaret taught English and history. Together, they have four children, who they frequently took camping in France, as well as five grandchildren and two great grandchildren.
In his spare time, Graham was a Scout Master in Nottingham, Reading and Hammersmith. He also supported hundreds of children overseas to learn mathematics, including in Ukraine, Malaysia and Kenya. Meanwhile, Margaret spent many years volunteering at the Georgian Theatre in Richmond. They also share a passion for travelling: visiting an array of countries, including Jordan and Turkey – and even the Antarctic.
Judy Wray, Home Manager at The Terrace, added: "Here at The Terrace, we regularly celebrate big anniversaries and understand the importance of maintaining relationships and celebrating life's milestones.
"We were honoured to be a part of such a special moment for Graham and Margaret – they are truly an inspirational couple, and we can all learn a thing or two from their long-lasting marriage.
"Marking such a special occasion at the home allowed many of the residents to reminisce and share fond memories of their own wedding days – it was lovely to hear their stories too. Happy anniversary Graham and Margaret!"
The Terrace provides full-time residential care as well as short-time respite, and has been designed to enable residents to live active and fulfilled lives, while also promoting independence. The care home incorporates space for hobby and leisure activities and features its own hairdressing salon.
To find out more about The Terrace, contact Home Manager, Judy Wray, on judy.wray@careuk.com, call 01748 822342 or visit careuk.com/the-terrace.