A resident was given the surprise of his life when some unusual visitors arrived at his care home.
Anthony (Tony) Bartlett, aged 67 and resident at Care UK's Ambleside, on Evesham Road, told his care team his wish was to see some wonderful animals up close, so they immediately set to work to make his wish come true.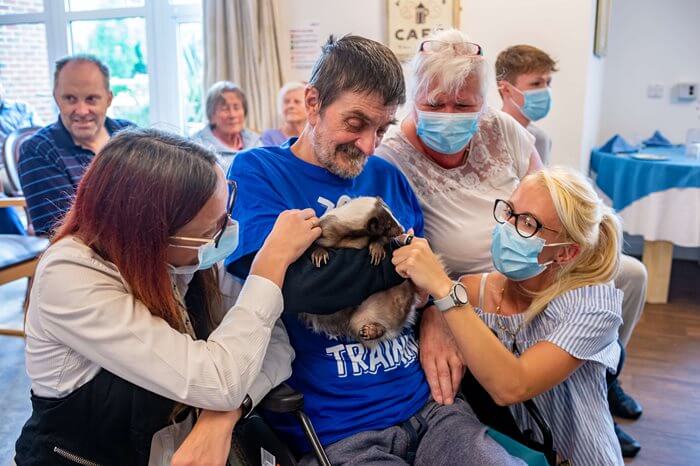 Tony was amazed when corn snakes, a tortoise, chinchilla, skunk, bull frog and larger than life rabbit, all leaped into the home. He was delighted to be able to get up close with the animals and stroke them. A lifelong animal lover, the chinchilla was a firm favourite for Tony and having them come to visit was very special.
The visit was part of the home's 'Wishing Tree' Initiative, which encourages residents to put wishes forward, allowing them to reconnect with a past hobby or try something completely new – from flying on a plane to enjoying a fish and chip supper, no wish is too big or small.
When Tony was growing up, his home was filled with animals for as long as he could remember, which is where his love for animals was born – from breeding European birds, to owning multiple dogs throughout his life. Tony is an expert when it comes to animals great and small and believes that 'you look after them and they will look after you'.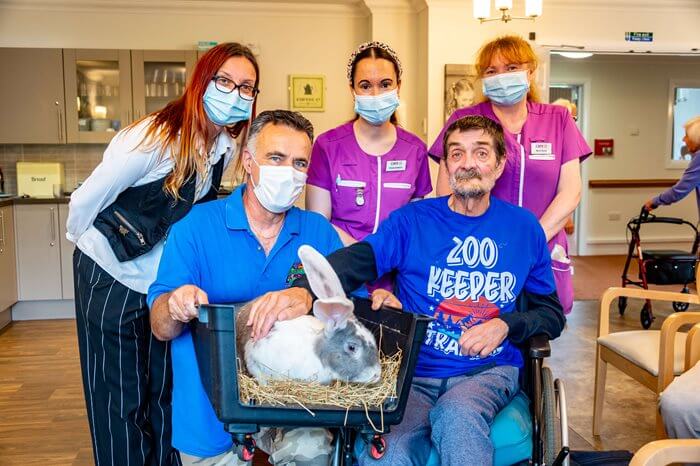 The animals were brought into the home by Animal Mania, and are friendly, relaxed creatures which are used to human contact.
Tony said: "It was an amazing day and I enjoyed seeing all the animals, in particular the chinchilla as it was so soft to touch. The day made me feel very special – thank you to the team for making it possible!"
Staci Reeson, Customer Relations Manager at Ambleside, said: "Here at Ambleside, we are always seeking new and exciting activities for residents to enjoy. Animal therapy has proven to be incredibly beneficial for older people, as it can often prompt conversations and have a calming effect.
"We were delighted to welcome Animal Mania into the home to be able to make such a unique wish come true for Tony, as he has always talked about his love of animals with a passion. It was wonderful to see his face light up when they arrived.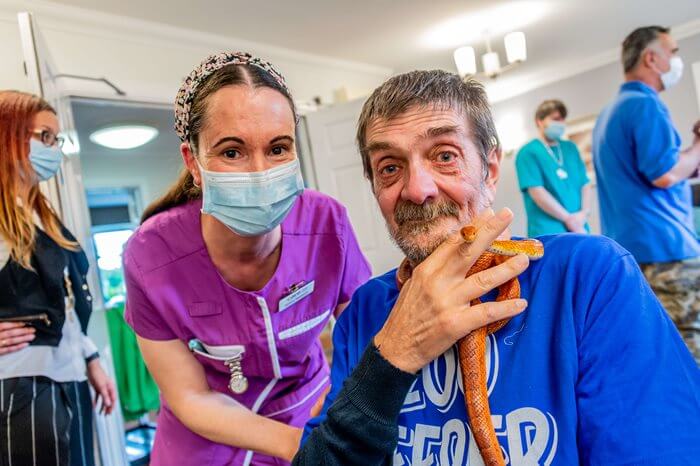 "It was fantastic to welcome the creatures into the home, and definitely a day we will remember for a long time."
Ambleside is a state-of-the-art care home which provides full-time residential, dementia and nursing care, as well as short-term respite care. Designed to enable its residents to live enjoyable and fulfilling lives, the care home has its very own cinema, café and hair salon, and there is plenty of space, both indoors and out, for relaxation and recreation.
For more information about Ambleside, call Customer Relations Manager, Staci Reeson on 01789 868 298, or email, staci.reeson@careuk.com.
For more general information, please visit careuk.com/ambleside.