Hythe care home residents have knitted over 20 teddies to help support local children's wellbeing.
80-year-old Veronica Wylde and 91-year-old Marjorie Brown, residents at Care UK's Carpathia Grange, on Southampton Road, began knitting in their younger years, and are putting their skills to good use to create 'bobby buddies'.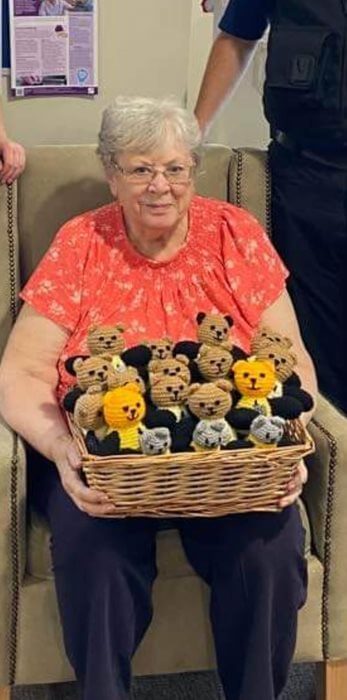 The 'bobby buddies' initiative sees teddies created by volunteers and used by police officers to help engage and comfort children in difficult situations.
Having knitted many teddies for children's charities and hospitals over the years, the pair were delighted to present the 20 bobby buddies to PCSO Eve De Lisle and PCSO Ryan Murray when they visited the home.
Veronica, known as Ronnie, said: "It took 6 weeks to make 20 bobby buddies and we are thrilled to have achieved this. We all find it relaxing to knit it was my lovely daughter who told us about the advert requesting teddies. We are now making new Teddies for the Ambulance Service and Fire Brigade for them to give to children in difficult situations."
Pooja Dhoot, Home Manager at Carpathia Grange, added: "Ronnie and Marjorie are fantastic knitters, and were delighted to be able to support the Bobby Buddies initiative.
"Here at Carpathia Grange, we strive to support residents to lead fulfilling lifestyles. Helping residents to use their skills for good can be a fantastic way to provide older people with a sense of purpose. We know how much Ronnie and Marjorie enjoy knitting, and how much they like hearing how their teddies have helped people, which is why we were thrilled to welcome PCSO De Lisle and PCSO Murray to thank them in person."
Carpathia Grange is a three-storey care home, which provides residential, dementia and nursing care, features 62 ensuite bedrooms, and has been designed to enable its residents to live active and fulfilled lives, while also promoting independence. The care home incorporates space for hobby and leisure activities and includes its own cinema, hair salon and café.
To find out more about Carpathia Grange, please contact Customer Relations Manager at Carpathia Grange, Nikki Toomer, on nicola.toomer@careuk.com or call 0238 098 8733 or visit careuk.com/carpathia-grange.